** The deadline for entering this competition has passed, but get ready Flaggy McFlagface fans - the public vote is coming soon **
Herefordshire has, for too long, been a county without an official flag.
Sure a couple of unofficial motifs have been flown over the years but these unadopted emblems are about to make way for a new - and official - design, thanks to a countywide competition.
Led by Herefordshire Cultural Partnership, the Design a Flag for Herefordshire project calls on everyone to showcase some creativity and come up with their own designs. Designs will be submitted and in the summer the public will vote for their favourite. 
When the winning flag is adopted by the Flag Institute it'll be available for everyone to use, wherever and whenever we see fit. 
Rumour has it that one of the better known unofficial flags was created by a former student as an internet joke. Lol. 
"It's a perfectly decent and well-designed flag and maybe it's the right answer," said Matthew Engel, the Herefordshire-based writer who has kickstarted this countywide creative campaign. "But we think the community itself should be the judge of that. This is an opportunity for an outburst of creativity that can involve anyone."
The idea of having an official flag created and chosen by local people came about after Matthew saw a map of England filled with county flags - and a fat grey space where Herefordshire should be.
"I thought it was a bit pathetic for Herefordshire, where we have so much to be proud of, to be just a grey space," he said.
"A flag is a very useful symbol to help everyone understand that they are somewhere special. I know some people are a bit wary of national flags because they can sometimes be divisive. But this has nothing to do with politics. We are not going to invade Shropshire."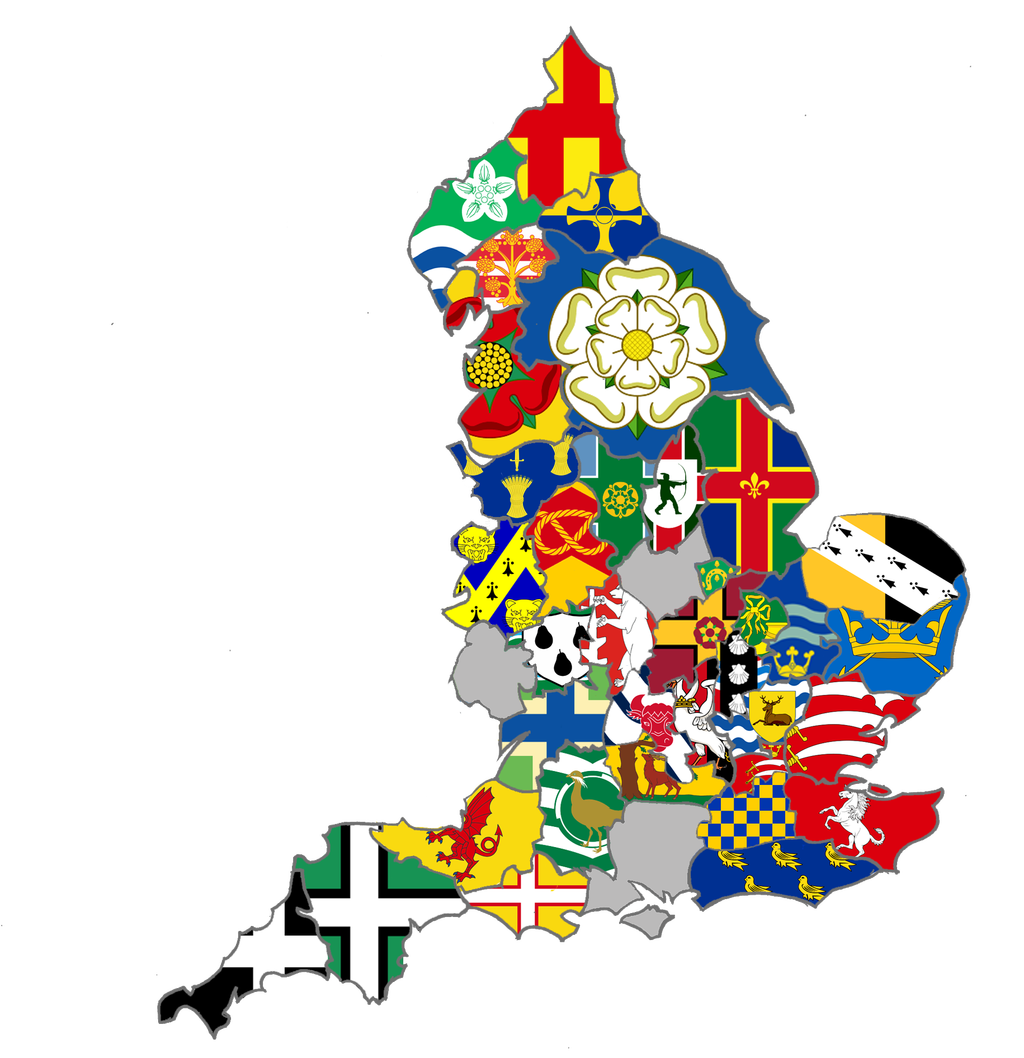 This unadopted design, which you might recognise, features a red background that represents the county's red earth, and a white and blue wave standing in for the River Wye. The gold lion is taken from the City of Hereford arms, and the bull's head is a bovine nod to Hereford Cattle.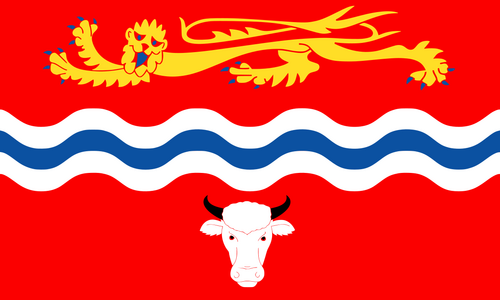 Download The Entry Form Here
Sorry folks, the deadline to enter has now passed - but keep reading to find out how to get involved in the public vote.
Digital flag designs should be sent to herefordshireflag@gmail.com with the subject line "Competition Entry". Hard copies should be sent to Herefordshire Flag Competition, ignite cic, Hereford Cider Museum, 21 Ryeland Street, Hereford, HR4 0LW in the post or in person.
Prospective flag-designers need to get their entries in before April 15, 2019. Anyone (wherever they live) can enter, free of charge, as many times as they like.
Design a Flag for Herefordshire entry form
A Little Inspiration
Adopted in 1938, the official flag of Cheshire features golden sheaves of wheat. The design's been associated with the Earldom of Chester since the 12th century, and has been used in the coat of arms of Chester since at least 1560.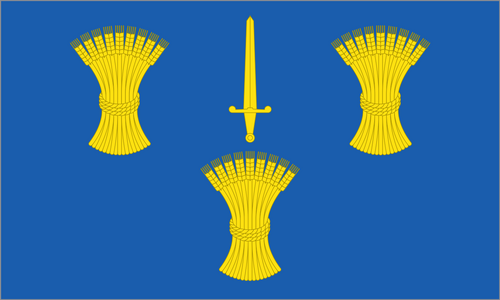 Kudos Shropshire. This one's got leopards on. Referred to as "loggerheads" locally, leopards' heads are a traditional emblem for Shropshire and have historically evolved from the loggerheads on the Shrewsbury town arms. This design was adopted in 2012.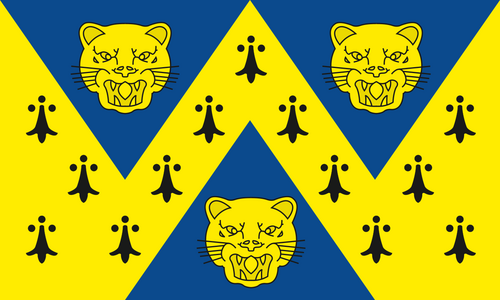 Black pears have long been associated with Worcestershire. Ask cricket fans. They've appeared on the arms of the City of Worcester in a design that reportedly dates back to the Battle of Agincourt. This county flag was chosen following a competition in 2013.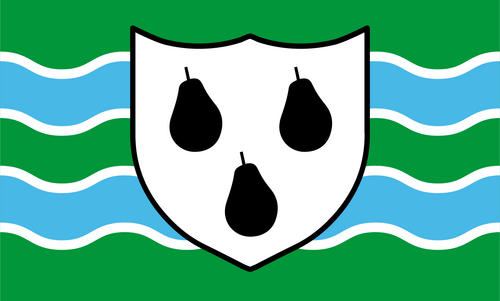 The public vote
Even five-year-olds will get the vote when Herefordians are given the chance to pick the winner of the competition this summer.
"Children are the future of Herefordshire and it's going to be their flag more than anyone's," said David Marshall, chairman of the Cultural Partnership's Design a Flag committee.
"This is about creating a simple, striking image that everyone can recognise and understand," he added.
"So their view is particularly important. We hope that teachers and parents will take the chance to tell children about where they live and why it's such a terrific place. But this is not just for the young. We want everyone's ideas. The young, the old and the in-between."
So far 36 of England's 39 historic counties have their own official flag following local initiatives in recent years. Praising this flag movement earlier this year communities minister Jake Berry said: "Our historic counties are part of the fabric of British society that has been woven into our national story since Saxon times," he said.
Organisers say the flag will help raise the profile of the county - and enable its people to express their own pride in living here.
When all the entries have been submittted, an assessment panel will put together a shortlist of possibles from which voters can choose. The actual vote will be restricted to people with an address in Herefordshire and children's ballots will have to be authenticated by a responsible adult.
Voting is expected to take place during June and July with the winning flag being hoisted at a ceremony in Hereford later in the year.
Artistic skill is not a pre-requisite. 
"We very much want experienced artists and designers to be part of this, but the aim is to find the most striking, appropriate and beautiful image," said Leoni Linton of ignite, the community activity group administering the competition.
"But maybe the most imaginative idea will come from someone who has hardly even held a crayon. The panel won't turn down something brilliant just because it's a bit smudgy."
Herefordshire's search for its own flag has the support of Phillip Tibbetts, the communities' specialist at the Flag Institute, the body in charge of registration who will advise the committee on how the future flag can meet the Institute's requirements.
The Flag Committee is an offshoot of the Herefordshire Cultural Partnership which ran Hereford's gallant attempt to become UK City of Culture 2021. The committee is working in co-operation with Herefordshire Council and the Flag Institute, the national body which maintains the UK's register of flags.
For information on the competition, including how your local group or community has host their own Flag Making Session, email herefordshireflag@gmail.com.