Want to work in the arts? Sure you do. Everyone does. It's fun and interesting and sometimes you get free tickets to stuff. But how do you get started?
Well, this. *This* could be how you get started.
The Herefordshire's a Great Place project launched in 2017/18 to spark more arts + culture in the county. Part of what the project does is support cool, original projects through grant funding.
It's a part they need your help with.
HaGP and its website The Shire (as in this website that you are currently on) are looking for a creative, enthusiastic intern for two weeks to help connect with groups who want to run genuinely eye-opening arts, culture and heritage projects in Herefordshire and - and here's the important part - help them make it happen by telling them about the Great Place funding opportunities.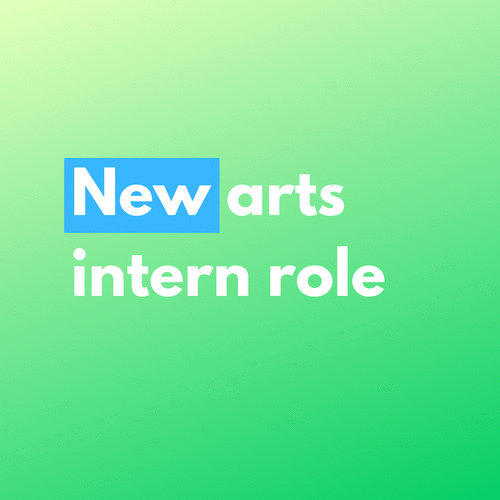 In the role, you would help promote the My Place grant scheme which looks to pair artists up with community groups, and fund arts and heritage projects to the tune of up to £2,000 each.
We want to get the word out and we want your help doing it. While the role is unpaid, you'll get an inside look at how arts funding works, you'll work alongside industry professionals and develop your marketing skills on an Arts Council England and National Lottery Heritage Fund-sponsored project.
Want to run a sticker campaign? Tell us how. Think you could create a meme that would reach further than a dry, old press release? Show us. We're up for ideas, but we need to reach both artists and local organisations.
You'll be based at Rural Media and work alongside The Shire's editorial team and social media manager. Your hours could be flexible depending on other work. While you may want to get involved in other things at Great Place, this would be a project-based role. That means you will have a deadline, but we can be flexible with the right candidates if they're unable to work full-time.
What we're looking for from you:
Creativity.
A passion for communication.
An interest in arts + culture.
What we need:
At least one year of sixth-form education under your belt (ideally this is a role for 18+)
Good IT skills – ideally with an understanding of using social media for promotion.
A desire to go out and help find some really cool stuff in Herefordshire.
What we'd love (but aren't deal-breakers):
An example of your graphic design skills – whatever form that may come in.
Some experience working in or alongside a marketing department, whether that's professionally, socially, or as part of a school project.
Several ideas on how to reach out to audiences in Herefordshire.
A driving license.
For more info email The Shire's editor Adam Knight on adamk@ruralmedia.co.uk