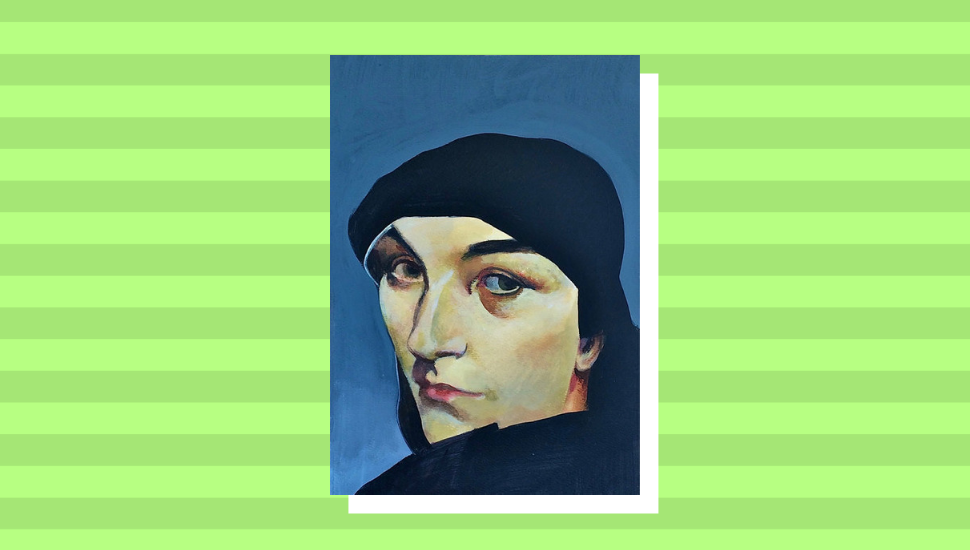 The 2019 h.Art festival is open across the Herefordshire. Maybe you missed the 700-or-so pink signs installed on the county's roadsides.
The ten-day art and craft festival takes over galleries, cafés, reclamation yards and maker spaces in between. On show is the full spectrum of first-time exhibitors to nationally-renowned artists, many of whom actually open up their studios for the week so you can pop in for a chat.
We asked four local artists which events jumped out for them.
For the full listing of what's happening during this year's h.Art head to the official site, or grab a good ol' paper copy at any number of the county's cultural venues.
---
Lucy Baxendale
Lucy is an 'artist, ceramicist & an explorer of imaginary worlds' and the biro behind the butterfly mural in Hereford's OId Market shopping centre. She's also one of three 2019 h.Art Prize winners, and you can see her work alongside Susan Smith and Amelia Strong at the Old Mayor's Parlour on Church Street in Hereford. (See Omar Majeed's h.Art picks for more info, and a much better description).
Lucy's picks:
"I would recommend Andrea Mclean @ Venue 108 [the Old Cottage Hospital in Ledbury]. Her paintings are incredible; the more you look the more you see. There's so much attention to detail and great colour choices. You really need to see her paintings in person to truly see how amazing they are.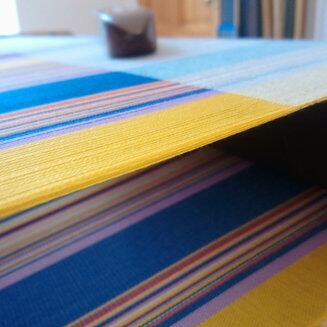 "I'd also recommend popping in to see Helen Foot Design & Williams British Handmade. They are at Venues 35 and 36 [both at Cockgate School, Bircher, Leominster, not far from National Trust's Croft Castle estate] and have the most amazing live-in studio spaces in an inspirational setting. If you're a fan of traditional craft I'd thoroughly recommend dropping in to see these lovely ladies who make the most beautiful things."
Find out more about Lucy's work here.
Nick Holmes
For the second-year running's Nick's h.Art pieces are among those that really top the programme for us, including the painting featured in the tile for this article, but this isn't about us...
You can view Nick's series of abstracts, early-2000s alt-album art and portraiture that draws on the old masters... and children in art classes at the Lion Ballroom in Leominster and at his own studio throughout h.Art.
Nick's picks:
"Venue 46: I saw Siwan Gillick's paintings at the Made in the Marches Gallery in Kington and loved the freedom and verve of her paintings. I left with two of them. I couldn't believe the prices either! And Venue 17: If you hurry, you might find something by Kate Kato left at the Made in the Marches Gallery. Her work is deft, witty, idiosyncratic and very popular."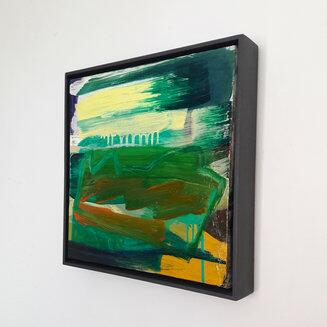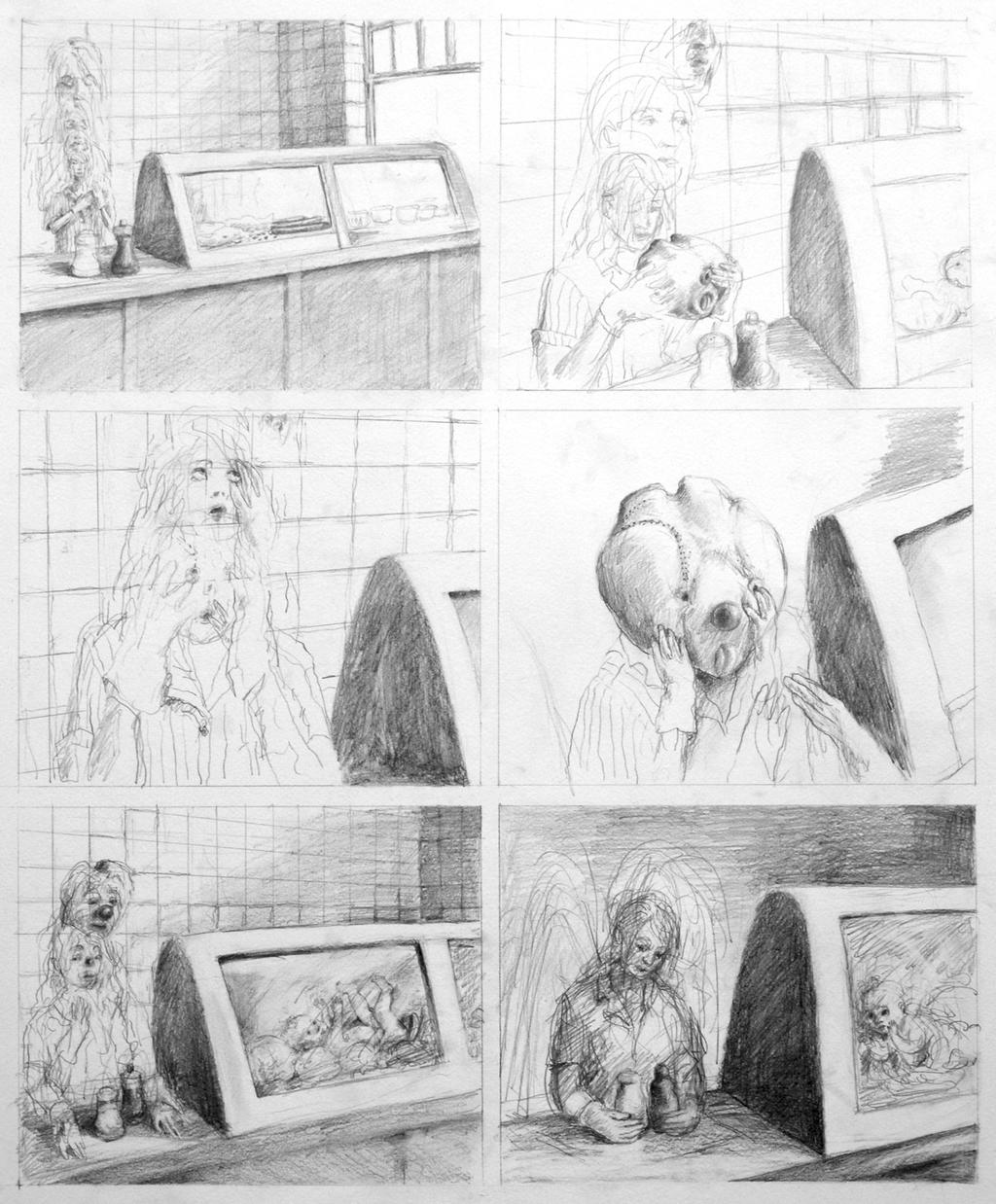 Holland's picks:
"Chapel on the Green, Glasbury, venue 63.The gallery is an unpretentiously renovated former church with a big rendition of Tilda Swinton front and centre (where she should be).
"The Tivoli Fish Bar exhibition by Susan Adams looks absolutely bonkers in the best way - featuring disturbing absurdly sexual renditions of batter and pelicans which will haunt my scampi eating evenings for the rest of my life.
I'd also pick the Made in the Marches, Kington, which is Venue 17. I'm a big fan of Rebecca Finney's work so I'm going to champion the Made in the Marches. The best thing about group shows is that you get to see a really diverse range of works in one place, and this group are tireless in output, so well worth supporting."
Omar Majeed
Omar is 1/10th of the newly-formed Market Arts Collective based in the studio space above the Butter Market in Hereford's High Town. He's a fine artist, graphic designer and Zine God. You can see his work during h.Art as part of a joint exhibition with Andrea Sartori  and as part of the artist showcase at All Saints church in Hereford.
Omar's picks:
"It will probably come as no surprise to followers of Hereford's long-standing annual art takeover, h.Art, that the h.Art prizes winners exhibition at Old Mayor's Parlour is a dazzling and eclectic mix of work.
"Prize winners Lucy Baxendale, Susan Smith and Amelia Strong  have on display a formidable and inspiring collection of work that is diverse in its intention and outcome but holds together as a result of their collective commitment to quality of finish and an unrivalled imagination.
"Susan Smith has on display two eras of work, both ostensibly of partially abstracted rural scenes. The first paintings from her arrival in the area display an abundance of excitement and vitality in celebrating the rural landscapes that surround us. The later work is more measured in colour palette and arguably in execution and reveals a maturing of understanding of nature.
"Lucy Baxendale is a creator of magical worlds. From her visionary imagination never before creatures erupt in busily decorated clay. Aside from these unique and inventive sculptures she has more affordable items like the very cute monster egg cups for making breakfast fun again.
"Amelia Strong shows remarkable restraint with her jewellery which means it could be overlooked with such vibrant work elsewhere in the room. This would be a mistake. Her mark making into silver emulates the fractal hand of nature and gives her jewellery a gravitas worthy of nature itself. Some of the work was first made in response to the Alloy group habitat project which responded to a commissioned poem, Amelia was assigned the « rock pools » stanza and ran with it. She greeted us at the exhibition and answered our questions with grace and humour. Overall the experience of the show was a delight to behold and essential viewing if you're going round the High Town Trail (venues 7, 6, 2 and 4).
"Also definitely worth a visit is All Saints where you can see a fine selection of unique and distinctive art in an informal but grand environment.
"And try the brownies."
For the full h.Art listings at the annual event's official site, or pick up a printed maps at any number of the county's cultural venues.