Images in this article by Lewis Royden/National Trust
National Trust properties have done a lot to rid themselves of the Werther's Original reputation over the last ten years.
These grand, old heritage sites have become go-to hubs for wholesome family activities. Here in Herefordshire The Weir Garden built a beach. Croft Castle opened its parkland up for picnicing and play. Berrington Hall hosts 10km cross-country races.
It means that many Herefordians are discovering these places for the first time. While much of their success in reaching new audiences is driven by the ability to make the beautiful outdoor assets appeal to more people, there's been a local move to embrace the UK-wide Trust New Art programme too. And that is all about using contemporary art to do the same.
Jeremy Deller, Jarvis Cocker, Bob and Roberta Smith are among the artists being commissioned by the National Trust to explore British histories and help us see these protected places in a new way.
Just over the border in Worcestershire, you will find work by Turner Prize-winner Grayson Perry, who once described art history as 'a global game… of Chinese Whispers, hanging in Croome Court's 18th-century tapestry room.  
But even Perry, who famously accepted that Turner with the line "it's about time a transvestite potter won", has courted less controversy for his National Trust work than Herefordshire-based Studio Morison, whose 26ft-high pink pineapple at Berrington Hall, near Leominster, is one of the signature pieces on the Trust's national contemporary art scheme.
LOOKLOOKLOOK is a pineapple-shaped pavilion in the grounds of the Georgian property that recalls one of the major wealth symbols of the era. It's divided opinion among visitors and kick-started the kind of conversations that Trust New Art set out to - debate about art, about heritage venues, and the creative legacy of both.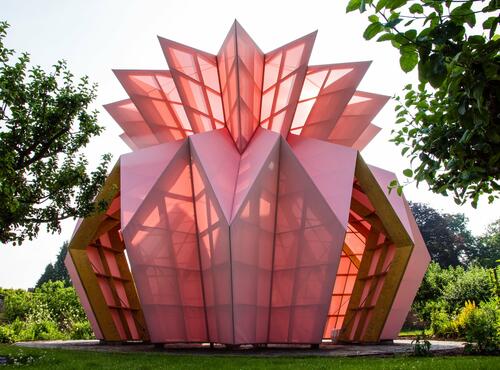 This year Berrington doubled down on contemporary art with Eye Am She from Lorna Brown.
Brown, a mixed media artist based in Hereford, has used Lovers' Eyes – these ornate watercolour depictions of the eye of a loved one, often kept in a pendant by Georgian aristocracy – to explore how women were looked at in the 18th Century, and how that gaze has, or hasn't, changed today.
"My work has a similarly Marmite-reaction. That's fine. That's okay. It triggers debate," Brown told us.
"The Trust as a whole, but Berrington in particular, is really putting a lot in to working with arts at the moment. They're sharing contemporary art and, honestly, I think they're really struggling with that with some of their visitors. They've had a lot of dreadful feedback on my work.
"But that was expected. It was expected with the pineapple too. People said they hated it. They'd said it doesn't belong in this setting - 'We want to see everything exactly as it was' - when actually, it's a Georgian property and the Georgians were progressive when it came to art. They liked new things."
---
Berrington was built by Thomas Harley, and run by his wife Ann Bangham, who was considered a local-girl-done-good after she married the then-London Mayor. It was the life of this 18th-century socialite that first inspired Brown, keen to tell a story of womanhood and power when most enduring stories from the era feature some of the latter, and very little of the former.
Several months in to researching Bangham's life, she uncovered something that brought the story even closer to home.
Much of Brown's work before Eye Am She challenges the male gaze, and talks to the female experience of the uncomfortable and accepted reality that you're forever being looked at - "the feeling, from an early age, that whatever you're doing, you imagine yourself being looked at - if you look pretty and all of that bollocks."
As an artist of dual-heritage, Brown's work is also about how the male gaze can fall on women of colour.
Her own heritage comes in part from a small island in the Caribbean, half the size of Hereford. As it turns out, so did the slaves owned by Ann Bangham's son-in-law.
"The more I looked at the Georgian period, and that building in particular, I couldn't escape slavery," said Brown.
"So I started looking into it and I found that the man who married Ann's daughter and lived in that house owned slaves on my family's island. And that's a tiny island. It's like you can't escape those connections.
"Doing the project, there was a sense of wanting to reclaim one of those properties"
And so the debate sparked by contemporary art at a heritage site goes deeper than 'What is Art?'.
"Our national psyche is that we're overly polite," said Brown. "We don't really like to debate things, and racial history is often swept under the carpet.
"I don't know if we're ever going to be able to overcome that. There are people who are willing to learn, and there are people who are not willing to back down. It's difficult. But I feel that good art has fragility and vulnerability.
"That's what moves me."
In their release for the Morrison's pineapple pavilion, the National Trust kicked things off by saying that "contemporary art and contention have always been close bed fellows" and it's certainly true that both contemporary works at Berrington are using contention to tell new stories about the same place.
Pay them a visit and make your own mind up.
Eye Am She is running until December 2019, alongside a textile piece that reinterprets Bangham's Court Mantua dress.
The pink pineapple will be there too, raising eyebrows for a while yet.
See more of Lorna Brown's work at www.lornajbrown.com and follow her on Instagram at @suffixx.
Studio Morison is run by Heather Peake and Ivan Morison, an artist duo who live in rural Herefordshire. See more of their work at www.morison.info.