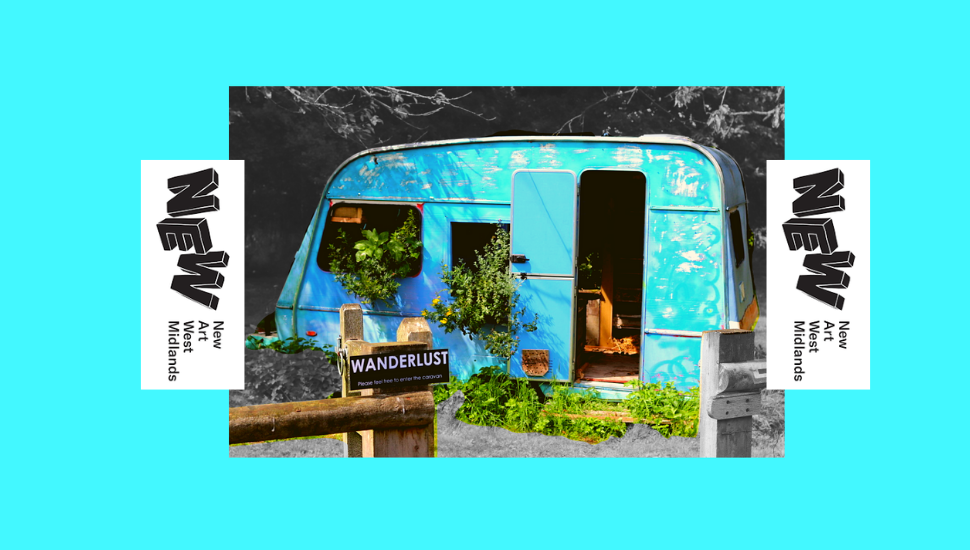 New Arts West Mids showcases some of the best emerging artistic talent the middle of the country has to offer. (Their site is also great for job opps in the arts).
This year their show – which features two recent HCA grads – has been curated by an international panel and is running in partnership with the second-ever Coventry Biennial of Contemporary Art, as the city gears up its cultural offering ahead of 2021. The CBCA as none of the cool kids are calling it runs October through November, and has a load of stuff you should check out,  not least work from Gemma Costin and Matias Serra Delmar.
Both Herefordshire-based artists did a bit of show-stealing at the annual grad showcase a couple of months ago with large-scale, al fresco installations.
Self-styled renegade botanist Gemma Costin turned a caravan that she used to live in, in to a living, breathing nursery for native-but-rare herbs and plants that feature in folklore. The bright blue installation – which was accompanied by a website to tell the stories behind the stems – is now returned to nature after being left to grow-out at the Sidney Nolan Trust in the west of the county.
Matias Serra Delmar is a Spanish artist via Argentina via Dorstone who took his neon-paint kit and moved away from the canvas and on to the chipboard hoardings and wooden pallets you'd more commonly expect to see on a construction site.
We wanted to find out more about both these talented people, their work, and who would make the guestlist for their Ultimate Fantasy Artist Dinner Parties.
Matias – if you could install No Particular Order anywhere in the world – where would you put it?
I think I would like it to be installed somewhere where it belongs. A building site. Maybe a pretend building site in a culture where building sites aren't divided with hoarding boards. Somewhere out of concept.
It makes little sense to place it where there are other hoarding walls in building sites, it will get lost. Lets see… Lets put it in the Amazon Jungle and see how nature destroys it.
Talking of which - Gemma - was it always the intention for Wanderlust to let it go back to nature?
Yeh absolutely - it was my intention from the very beginning that it would be left somewhere for nature to take over and for it to go rogue <3.
Just on your relationship with the caravan – how long/where did you live in it?
I lived in my caravan on and off for five years I think - most recently at the herb farm I lived and worked at. Before then it was at an artists' collective in Brighton. At one point I had 2 of them – both inherited from my friends family travelling circus.
I had one as my home and one as my workshop space. I gave one away and kept the one that  turned into Wanderlust. I painted it blue very early on. Living in such a small space had its challenges at times but I did love it.
So Matias, how does a Spanish/Argentinian artist end up in a Dorstone? (And have you found a good spot for churros since you've been here?)
Herefordshire is home now. I love nature here. I have lived in many places, mostly cities. Changing life from the city to the countryside perhaps is our response as parents to a life without the bombardment of information. Living in rural Herefordshire helps to connect me with farming, nature and fresh air.
When people ask me where I am from I always hesitate. I am Spanish, but lived in Argentina because of both my Argentinian parents, although the 14 years I lived there, I never felt that I was from there.
Having had lived in USA, Europe, UK, South America, none of those places I ever felt I was from. It's a funny relationship with where I live. Perhaps it is an indicator that I am an artist working abstractly on landscapes. Looking at an environment with no sense of belonging makes you abstract those things that you recognise - like the sunset with clear sky, cloudy and rainy days, different tones of the land, the differences in architecture, language as a sounds as well as meaning. Those things that one witness with or without being aware of and become impressions of a place.
Talking influences, Matias - where did your love of bold colour come from?
Colour is been following since I am little. My first memory, is a colour memory. The material  paint allows me to be selective.
So Gemma, what is it about your botany that makes it 'renegade'?  
The renegade aspect is that I like to approach studying plants in an artistic and intuitive kind of way. I would love to understand the scientific aspects of botany more, but I am more than happy with my relationship and unconventional way of studying.
What ways would you like to see the world become more biophilic?  
If everyone who was able to had a space for wildflowers to grow and encourage more wildlife into their gardens for example, that would be a good start. Creatures are our friends.
Matias – what was behind your move in to creating installations?
The move was to do mainly with the fact that I am in a 'builder's mood'. I love painting, I love colour, but the materials I use are always superficial. I wanted an excuse to get the drill out, see if I can build structures (not for human consumption ) and use the space. Paintings always end up on a wall. I wanted to create a space.
What do you secretly hope people say/don't say when they see your work at a show?
I would love that someone came up to me one day and say 'Dude why are you not making more art? We will pay you to do that!'
Who's on your ultimate Three Artist Dinner Party Guestlist (can be alive or dead)?
2 Pauls and one David.
Paul Klee and I have an ongoing conversation through colour. The exhibition at the Tate Modern couple of years ago, looking through his chronology of works, made me reflect in how I use colour and how he used colour. I would love to talk to him about that.
Paul Cezanne would be a different chat. It would be more like having a nice bottle of French wine, spooling ourselves with cheeses and bread, and then reflecting in how to immerse ourselves in the compositional elements that light has in the landscape. I do also have an ongoing conversation with him when I am painting.
David Lynch would be another sort of chat. When I was younger I got into making short films. The excuse was always: how can I represent a certain non-lineal story by making colour the protagonist. Lynch has been always one of those people I have as a reference in why I think in abstract art, even though his films have characters and sometimes the story has continuity and tries to make sense. But there is another aspect in Lynch I enjoy the most, which is in the sensory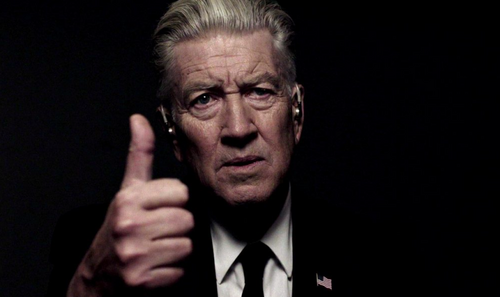 Those dark, almost sinister elements that are not perhaps seen on the eye, but are moved in the emotional level, are the aspects I enjoy the most.
(I am aware that my Three Artist Dinner Party Guestlist are mainly male. I would love to have some female artists, like the Icelandic musician Bjork, Phyllida Barlow and Chilean musician Violeta Parra. But shortlists are rubbish aren't they.)
And Gemma?
Paula Rego; her use of colour and paint is so beautiful to me. and how she weaves stories and narratives into her paintings amazes me. She is a really inspirational woman.
Felix Gonzalez Torrez; he conveyed such huge messages of love and loss, life and death in his work that I find so compelling. He was alas the first artist I learnt about who falls in the category of relational aesthetics which is very interesting and important as a way we can now engage with artworks
Olafur Eliasson; I cannot wait to go and see his current show at the Tate modern. again i love this artist because of his relational way of working, and how he communicates and discuses climate change and issues such as this into his work on such a huge and breathtaking way.
What do you think is it that draws you to working with nature/natural elements?
Colour and symbolism are a couple of reasons that draw me to working with the natural elements.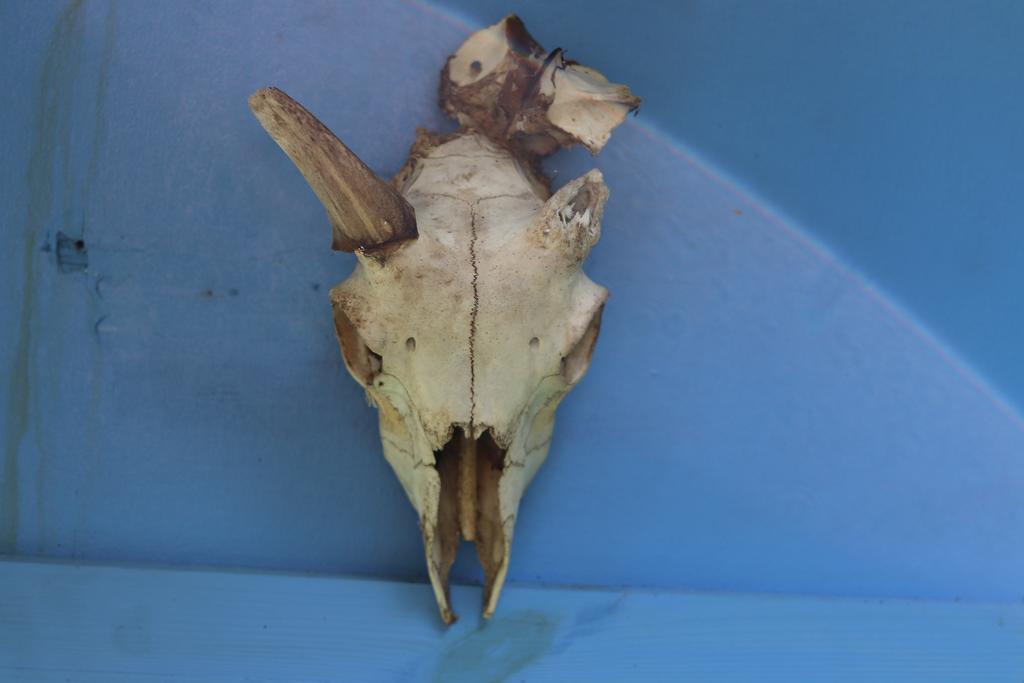 What's been your favourite piece of plant-based folklore you discovered while researching for Wanderlust?
My research for Wanderlust started years and years' ago, and researching plant-folklore is one of my favourite things so it's hard to say.
Mullien is my one of my favourite plants and I really enjoyed growing different varieties for Wanderlust; as well as talking to people about how it's one of the most rewarding things to grow. It is such an ancient herb. The Greek goddess Hecate used it to light her way in the Underworld - it was one of the first recorded torches. To me it symbolises light in darkness. Plus to use the herb medicinally is great for asthmatics - which I am - and which is probably none of the reasons I am drawn to it no much.
Where can people see your stuff next/find you online? 
Gemma - I will be showing a piece as part of h.Art and i'll be making something new for the Coventry Biennial, as well as hosting a workshop. My 'Wanderlust 'caravan has a residency at the Sidney Nolan Trust for the foreseeable future. My website is www.gemmacostin.com and Instagram is gemma.wanderlust.