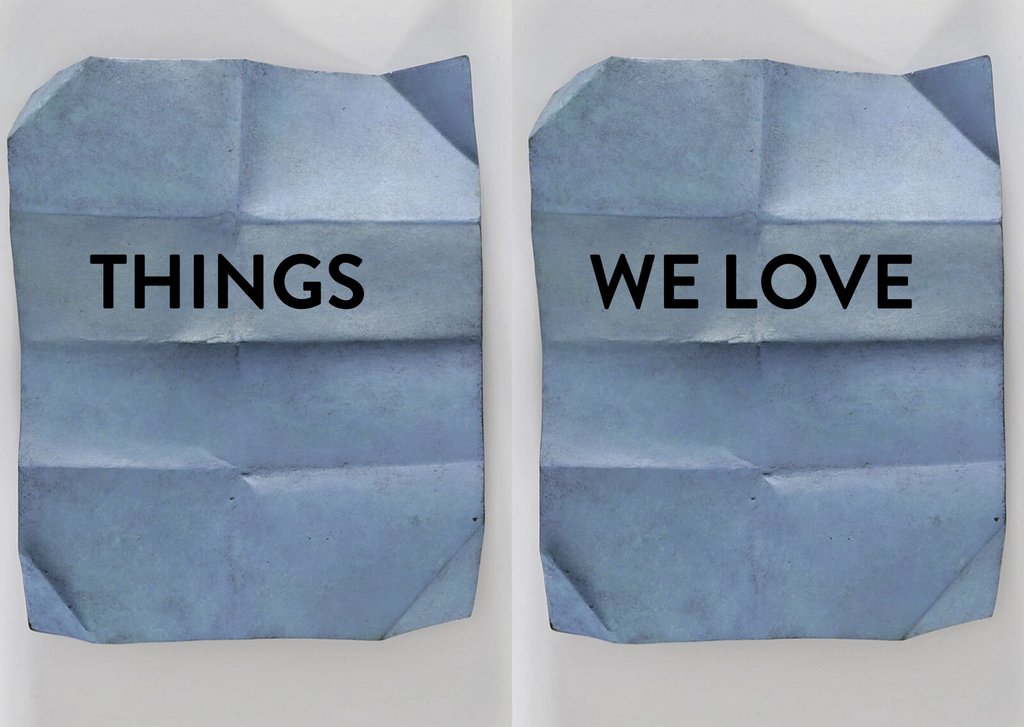 Not all men can wear hats. Baseball caps, sure. But in the year of 2019, not that many gents can, with any degree of ease or honesty, really wear hats. Mark Houghton can wear hats. He can also drum a tight 4/4 and in another life used to load up Pink Floyd's Hiwatt double-stacks. But the hat-wearing thing is only of note because of how it stands against the more minimal, more sheet-metal aesthetics of his quite brilliant work.
The Hay-based artist lifts up the everyday, and the details of the everyday, and gives them weight. Quite literally. He's recently taken sheets of folded white paper – the same ones the jam up your printer at home – and cast them in bronze with the finest of fine white patinas, giving a brutal gravity to this thing you could've balled up and tossed in the bin.
There's both colour, and a lot of play with the spaces his pieces occupy – but in a lot of his recent work there's an undeniable everyman quality to the materials he uses, and maybe somewhere a conversation with the steel city he was born in.
Having just finished shows at Manchester Contemporary and Bolton's Neoart Prize, and with work going to Small is Beautiful in London and the Royal Scottish Academy, Houghton also lectures on the Fine Art course at HCA. And we fell in love with a series of objects, cast in bronze and frozen in time that we saw on his Instagram.
Which was in part why we reached out to feature him in our latest Things We Love.
Here's a q + a we did with him on playing with metal and playing with time, and everything but playing with Jonny Borrell.
Why metal?
Using metal makes me a bit nervous, as it came in for a feminist thrashing during the 70s and 80s. Stock items such as flat sheet, and angle iron ect. almost feel like found objects on one level. Using bronze is exciting, not just for its traditional links and heritage.
But there is something really exciting about seeing a material that can shift between a solid and liquid state. People respond so differently to an object that has been cast in bronze, and pay more attention to the cast object, than they would to the original. It's almost like making a "monument" that freezes, or slows down time.
Your work always seems to play with physicality, and talk to the space it's in – things you can't necessarily get in an IG feed. What's it like making real, 3D work in that context? And do you think how we value of shows/installations is changing?
Making a work is the most important aspect.
Having said that I know that I need to generate competent imagery as a long-lasting legacy. This can never replace experiencing the work first hand, but it is very necessary aspect, of self-promotion, gaining more exhibitions etc.
The work's relationship to its surrounding spaces has always been important to me. I'm interested in the reciprocal relationship between the two, and often try to blur where the work, or the show begins and ends. When I worked site-specifically, on one level I used to feel like I was generating three-dimensional painting of sorts that people could enter, and walk-through - in line with a lot of contemporary artists I am more interested in providing an experience for a viewer.
Where do see the future of art shows/installations going?
Hard to say. As institutions and funding bodies get bigger, no doubt they will try to outdo each other with bigger and better shows. Having said that the relationship between funding bodies and their relationship to climate damage, or un-PC methods of generating wealth are coming to the fore more.
I imagine artists and curators will work harder to justify spending lots of money on art exhibitions. On a more grassroots level, I think artists will continue to bypass institutions, and carry on using the plethora of empty spaces available in any city centre.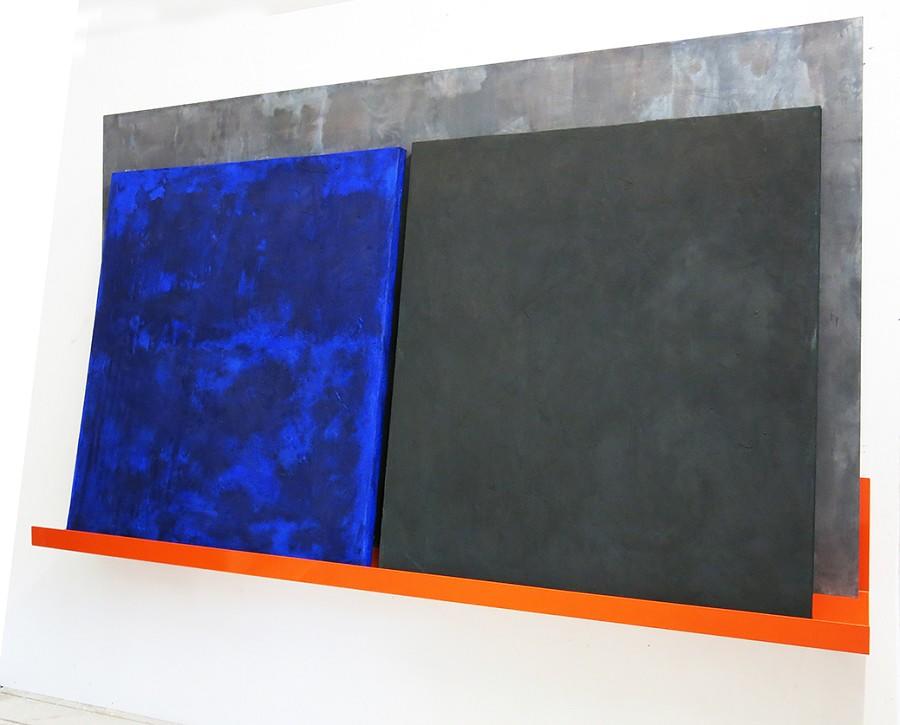 Talk me through the casting process for something as fine as the pieces you're producing?
Seeing any idea become a physical reality it's always exciting. And that's the hit that keeps you going as an artist. Bronze casting has an incredibly long history, but has changed very little over the centuries. Basically, you take a mould off an object, then make a wax version of the object.
This is then covered in a ceramic shell and baked in a kiln. The ceramic shell becomes rock hard, and the wax runs away, hence the term lost wax casting. This leaves a void that is filled with the liquid bronze.
The shell is then removed, and the metal cleaned up and a patina added if necessary.
What's the one piece you've made that you are truly, entirely, sit-it-on-the-coffee-table-till-the-of-your-days happy with?
I'm never totally happy with anything. If you made an artwork you were totally happy with you would probably stop being an artist. There is always something that you're not satisfied with that you wish to repeat or improve.
Einstein's definition of madness was the person who kept doing the same thing over and again, but expected a different result each time. I think that describes an artist.
Also, each piece feels like a segment in an ever expanding family tree. Essentially they all relate to each, especially at the moment with the current body of work.
What's it like to be a visual communicator in a town full of written ones?
When I make work I imagine it travelling much farther than Hay. To be honest I become a bit of a hermit in my old age, and no longer engage with small town politics.
Whose work are you really enjoying at the moment? And is there anyone/anything emerging in the art world that you think is on the cusp of something big right now?
There are certain people I really enjoy and have done for a while such as Robert Irwin, Pedro Cabrita Reis, Miroslav Balka, as well as people like Valerie Kolakis, Tessa Lynch and Thea Djordjadze, and most recently I was blown away by Alicja Kwade.
Is there a thing where most artists secretly want to be musicians and a lot of musicians secretly think they could be artists?
Now I don't think so. Art schools used to be a good breeding ground for bands, and also used to be on the live music circuit.  Of course nowadays a lot of music is generated in the bedroom, in a machine by an individual, who may have no intention of playing live.
Which of the two did you fall for first?
Probably both at same time, although it seemed I would be a rockstar before I became a world famous painter.
And you were a roadie with Pink Floyd back in the day?
I never went on tour with Floyd. They wisely bought a huge PA, lighting rig and stage, big enough to fill stadiums like Wembley. This was rented out, so we basically went down to the warehouse in Islington to either load, or unload trucks.
I did get a chance to go on tour with the Rolling Stones, and initially said yes being a massive Stones fan, but then wisely decided to turn it down, as I knew I'd comeback with the coke habit, and lose my wife Mandy to boot. I might not have any regrets but I'm sure Mandy has!
What have you got coming up - and where can people find you online?
I am currently in two exhibitions, one in Bolton, and the other in Huddersfield Art Gallery. Next is the Manchester contemporary Art fair, which is good fun, almost home town. After that I will be showing a couple of pieces at Flowers Gallery in Cork Street, and several pieces in the Royal Scottish Academy. I showed there last year. It's a lovely space, and the show is organised by a lovely people. Edinburgh is always such a great city to visit.
Best place to view the new work, and keep up with show news is on Instagram @dmhoughton.