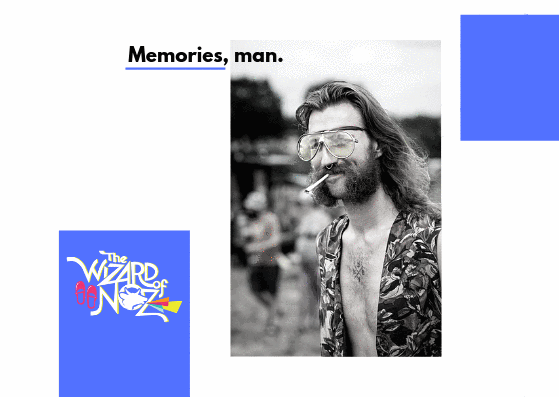 While the weatherman's predicting the kind of Biblical front that makes for iconic images and ruined trainers, we wanted to get to the heart of what makes Nozstock Herefordshire's best-loved festival, on the eve of it's 21st go-around.
There was the Big Chill before it, and the launch of El Dorado and LakeFest since, but Nosworthy mud has got under the fingernails of the county's festival-goers like no other. It's seen scenes come and go, been passed on from older siblings to younger generations, and has grown without ever feeling like it.
I've seen mates take the stage, and Shaun Ryder, and I'm not even one of the loyal many for whom the pilgrimage to just-outside Bromyard is as much an annual tradition as turkey at Christmas.
There's a reason that The Guardian named it (again) one of the top boutique festivals in Europe for 2019. And if The Guardian, and 'boutique', are words you wouldn't immediately associate with Herefordshire – then almost everything Noz does very much is, and it's that personality, that mud-splattered, here-for-a-good-time, cider-swilling swagger which is the very reason it keeps getting put on lists like that, and bringing home awards.
You can feel it. It's a very real festival, in UK scene increasingly flooded by pretenders, and that's why the imminent downpours won't slow down the partying this weekend even for a second.
We grabbed a few artists and creative types who love Noz as much as Andy C loves The Cubicles, and got some of their memories of Noz's past.
Note: there may still be some last-minute tickets available on the gate - visit the official Nozstock site here for more.
(Banner illustration by Shire/Facebook:Dan Barker)
Anthony 'Murf' Murphy - Anomalies frontman, convinced Jurassic 5 to create a burger for him at the Beefy Boys
I love the festival so much I had my Stag Do there in 2017. I've been told by various people I had a great time, and I believe them.
Nozstock's always had a special place in my heart. It was one of the first places to book my band The Anomalies. We went on to play the festival each year for seven years' straight.
 Some of the main stage slots we had at the festival were some of the best gigs we ever did. Out of all the festivals in the UK, nowhere quite has the same atmosphere as Nozstock. It's one of the last festivals in the UK which still has a heart and feeling of community to it.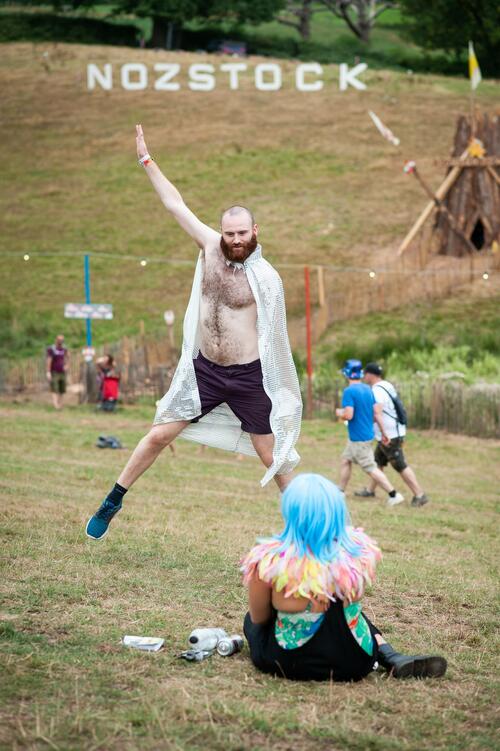 Toki Allison - film, social art + Nozstock producer
It's quite hard to think of Nozstock separate from my identity – I've grown up here the past few years, since I was 14. I look at is as part of my home and my community and my friendship group. But in terms of picking highlights; the Jurassic Farm year in 2014 was really good fun with lots of dinosaurs and a load of epic visual stuff, and it was really one of the first years where we really took production up a level and delivered something that felt smoother, and I guess in the same leagues as the big festivals in that way – even though we're a little old 5k capacity.
I loved seeing Roots Manuva on our Orchard Stage that year. I really felt like we'd got somewhere having that level of artist – and someone who I really loved growing up.
Obviously last was special for us. It was the 20th anniversary. We had a big nostalgia theme. And we had a load of people come back to celebrate what we'd achieved over the years which was really special and personal.
This year, the place looks incredible – it's incredible how they do it. I'm in awe of it. Soul II Soul will finish off the weekend on Sunday and really excited to hear some of those old classics.
Dave Crowe - globe-trotting beatboxer, occasional TV ad star, originally from Ledbury
I remember one year, after being on it pretty solidly, with no tent, nowhere to stay – that was how we used to roll with my band Heymoonshaker – we had an interview that was scheduled at ten in the morning.
We had to do it. But it was scheduled in the middle of the camping area and it started to rain, so we're sat there, with umbrellas, feeling like we'd been drinking for two days with no tent and they ask us to play a song. We just jammed – and they actually recorded it, then when they released it a few months later, we watched it back there was this moment in the middle of everything.
Our manager was like 'you need to record that riff'. That was the riff that became Take The Reins, and that became the hit single of our latest album. That riff, and that song, opened a load of doors. We were on radio, we played many, many festivals, and that was the first time it happened – and that's about the cleanest story I can tell about Nozstock.
Leoma Drew - jewellery genius and Nozstock regular
Back in the day, as a very young teen there were only a couple of hundred people at Nozstock. I don't think they realised how big it would become - and just seeing that progression was the best.
Fast forward a few years I took my daughter Molly. She was 4 and we had matching outfits. We partied hard with The Anomalies - enough said.
Then we did it all again when she was a bit older in 2015 for the space theme year.
My good stories are not for print.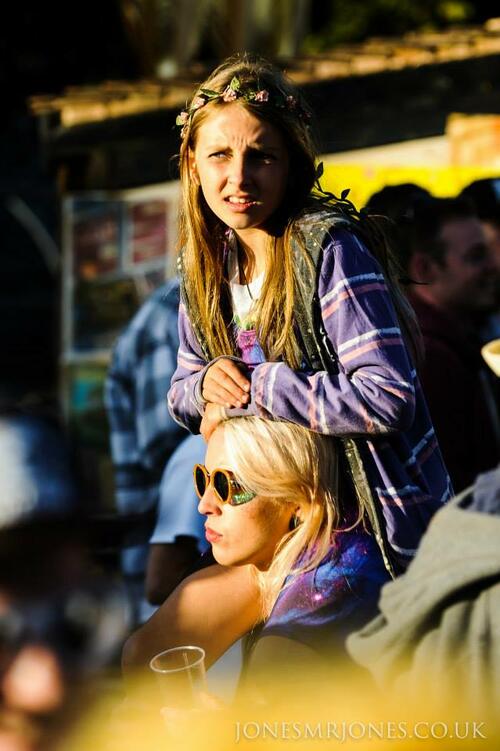 Sim Trafford - getting married at Nozstock this year
Sharing our wedding with Nozstock just makes the day even more special for us. It is our local festival and each year we both help set it up.
With the legalities of our wedding taken place in the town hall last Tuesday, we cannot wait to do the Handfasting ceremony and the exchange of rings to complete our wedding, in front our family, friends and fellow Nozstockers. Prango is the absolute perfect area for me and Jess to get married in, as its always the most colourful area, bursting with life - especially on the Sunday as Nozstockers use it to kick start their last day of the best weekend of the year. Our wedding will hopefully  get everyone nicely warmed up for the epic finale on the garden stage.
You can catch the nuptials at the Prango Stage at midday on Sunday. All pics in this piece are from Facebook/Nozstock.
See you in the Hidden Valley.