The work being made by The Young Writer's Collective is a bold and uncompromising look at life in lockdown.
The Collective was established six years ago and runs as part of Ledbury Poetry Festival's community programme. The writers, who have come to the group through SHYPP - Supported Housing for Young People Project (now Citizen), Close House and St Davids Centre in Hereford, are performance poets and every year stage their own event, Being Heard, at the international festival. No easy feat.
When lockdown was imposed, the Collective had just started writing sessions ahead of their 2020 Poetry Festival performance. Without face to face meetings, they had to find another way to connect. With the festival's support they were soon using WhatsApp and creating short films from their own homes.
The result is Lockdown 2020, a film made entirely in lockdown and successfully platformed at the Verspolis Festival of Hope.
We caught up with the Collective to find out how they made it, why it means so much, and what they think of arts and culture in Herefordshire.
How long have you been writing and performing for?
Ellie, 18: "I have been writing poetry for just over a year now but have never performed any until this year. Writing is so personal and each piece is completely different in every way. What one person may not like about your writing, 100 others will love. I didn't have confidence in my own writing this time last year but gave it my all this year and just went with the flow, and if people don't like my work? Then that's okay."
Kelsey, 21: "I have been writing and performing for the last 3 years. I'm not sure what people will  think about our digital performance after they've watched it and that's okay.  People can relate  to it on a personal note  or it can give them ideas to get creative but I don't mind what they think of it as it's what I have written from within and it's my way to express my feelings."
Sophie, 24: "The digital performance was a nerve-racking time for us all, I'm sure. The combination of all poems shows how much the struggling times are affecting us, as well as others.
I hope that it will open people's eyes and encourage them to consider being kind to each other."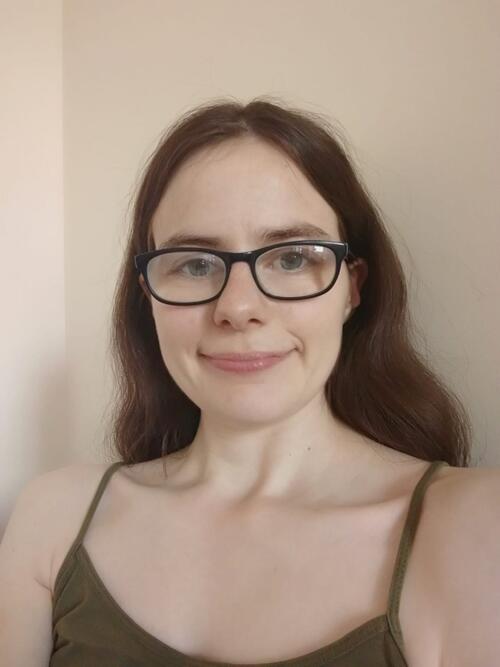 Harvey, 19: "I'm often nervous when sharing my work as I want them to enjoy reading it as much as I did writing it. I hope people think about the message I am trying to convey with my writing."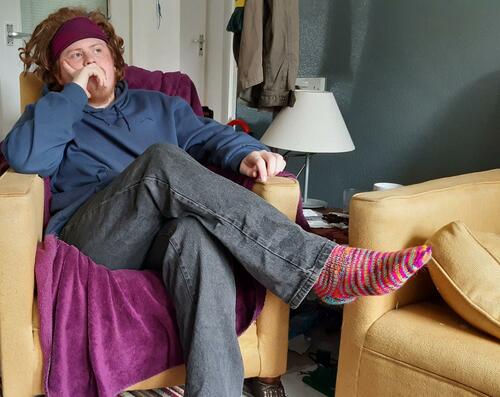 Aaron, 19: "I was born and still live in Hereford. I've been writing and performing for about 7 years. The Young Writers Collective has reignited the spark I first had when I was 12. I have written countless poems from all stages of my life and also written and performed 3 original songs to date. When I share my work in The YWC, I am shown praise and compliments but also constructive criticism on how I can really get the message across."
"I hope people who watch our digital performance see the emotion and message we are trying to put across, as some of us have left our comfort zones to even hit record on the camera."
Jayme, 23: "I have been writing for years since I was about 11 or 12 but I would only ever write pros, novels, monologues and short stories. I would never write poetry. Not because I didn't want to but because I didn't know how to. I've only been showing and performing my own work since 2018 when I moved into SHYPP. They introduced me to Toni and from then on I haven't stopped writing. It wasn't until a year ago I was able to write a poem without any assistance. Now it's all I write. It's a skill and passion I well and truly love. 
"What I love about the group is that we can be given the same theme or titles but we can all come up with different ways of looking at it. It is amazing and mind blowing when you see or hear what the other members have come up with. I look forward to seeing what everyone else has done. We all have different writing styles. 
"I like the way we are all respectful of each other and the support that we give to one another. 
"Now I like sharing my work. The very first time I was so nervous. I didn't think I was good enough compared to the rest of the group. And I remember the first time I performed to an audience, I was absolutely bricking it. As time went on I grew more and more confident. I still get very nervous when performing, but unlike before I use my nerves as the fuel to my flame."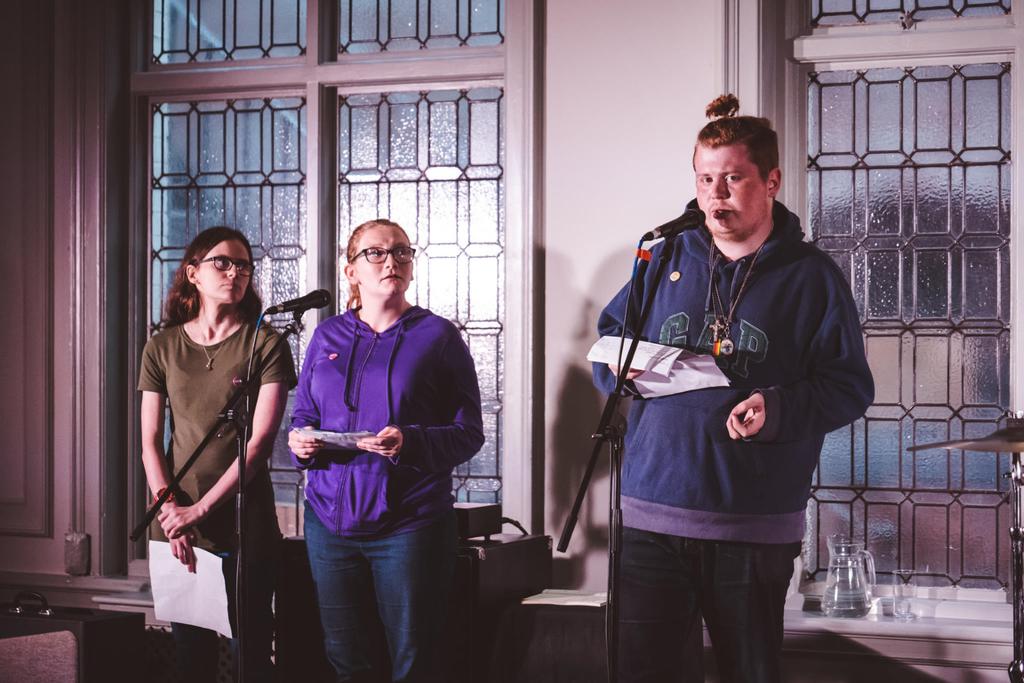 How often are you getting together virtually during lockdown? What do you do during the sessions?
Kelsey: "Our sessions consists of a starter and main. So we will have two starters and we have a time limit to write them in, to get our thought processes going, then we start on our main writing session and there is no time limit on that."
Aaron: " We get together once a week over WhatsApp, and we're given tasks to challenge our writing minds. My personal favourite theme me and another writer made a collaboration with two of the titles we were given: Mountain Of Flesh and Aroma of Blood. 
"I have listened and enjoyed EVERYONE else's poems and written pieces, especially Jayme's. The way she lays out the message so innocently is so hard to do. I'm sure she finds it difficult at times to connect the pen to paper, but when I read her writing, I am taken straight to the place that she is trying to portray. That. Is. Hard. To. Nail."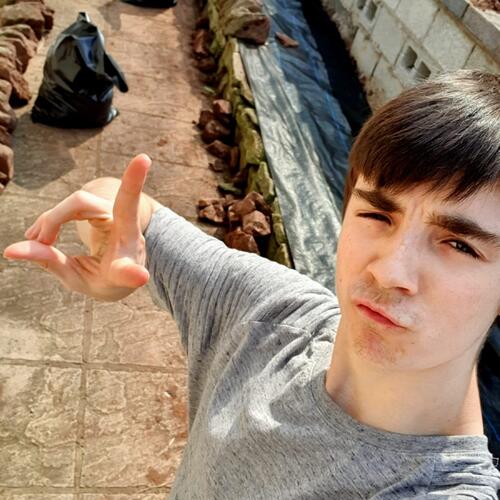 What would you say to anyone who is thinking about writing but feels like they aren't good enough yet or they're worried about sharing stuff with other people?
Sophie: "To anyone who is struggling with writing, don't worry. The first hurdle is coming up with a title but once that is done, the rest will follow. Put the pen to paper and see what comes out, you'll be surprised. Don't conform to anyone's expectations of your writing, just write about what feels natural/comfortable for you. Don't stress yourself out when it comes to writing, give yourself a break and try again. It's surprising where and when you find inspiration.
"If you're worried about sharing, you're not alone. The first time you share your work is the most daunting but it gets a little easier each time."
Kelsey: "There is no right from wrong way as they are your words and no-one else's. It's your chance to express yourself and if you feel like you're not good enough, then you're definitely wrong!
"Your writing is unique and sod what everyone else thinks. It take guts and courage."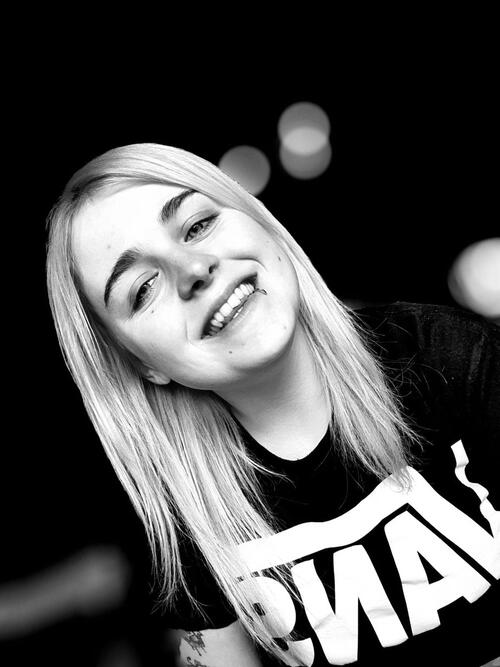 Aaron: "If you ever feel as though you want to write but don't know where to start, take 10 minutes to breathe and think about the message you want to put across. There are other writers and mentors that will be able to ignite that spark in your mind, that you are desperately trying to light. If you are worried about sharing in the sessions or with other people you don't know, that's fine. You can just send your work over to someone you feel comfortable with and they will read and tell you how amazing it is and how it could be even better. I would highly recommend starting to write." 
What are you missing right now – is there one thing that lockdown has stopped you from doing that you can't wait to do again. 
Harvey: "The thing I miss the most is being able to listen to the buzz of the city and have people walk past others without a look of fear on their faces. And the pub. When I am allowed out properly I just wanna sit and chat with my friends and family without buffering or static."
Ellie: "What I miss the most about before lockdown is being out all day every day, doing things with my friends. Whether that's just chilling at Close House, or going out for food or anything. I miss people."
Sophie: "I miss my niece and nephew. I miss seeing my dad around town and giving him a hug. I miss having a coffee and catch up in town with my mum after work on a Thursday.
"When we're allowed out I am hoping to visit my nan's grave, as I couldn't go to her funeral because of lockdown. I can't wait to have my friends over and to catch up with them in person."
Kelsey: "Lockdown hasn't affected me too much as I have settled down and I'm living  with my partner and she is all I need right now. Half way through lockdown we were told that we could go fishing -  that's all I was looking forward to."
Jayme: "Having friends and family stay at my flat. It's been quiet in my halls unless I sing (badly of course). I miss going on really long, and I mean really long, bike rides. Meeting up with the writing group in person. To be honest I miss a lot of things because I am an Introvert and Extrovert, but I have had too much time on my own now."
What arts and culture would you like to see more of in Hereford, and why?
Jayme: "I think there is a lot to do in Hereford, but only if you know where to go. There isn't really much information about where to go and how to access the different activities. I only know what's out there because other organisations have told me or pointed me in that direction as they knew I was creative. If you are just starting out finding somewhere could be problematic.
"There is also normally a cut off age as well, which isn't fair. I don't think creativity should have an age limit. I hear a lot that friends aged 25-29 are too old for things. Creativity shouldn't stop after you are 25 because it doesn't stop and pop back up when you're in your 30s."
Sophie: "I would love to see more opportunities in Herefordshire for people over the age of 25 to be able to follow their dreams in the arts industry, instead of feeling like their dreams have been ripped away from them due to their age."
Ellie: "I don't really know of many places in Herefordshire for arts and culture. I know of Close House's art and music, of Toni's poetry workshop and the Hereford College of Arts art week that happens each year. And there is LiveWire.
"I take part in all of the above as much as possible. I would like to see more music throughout the year."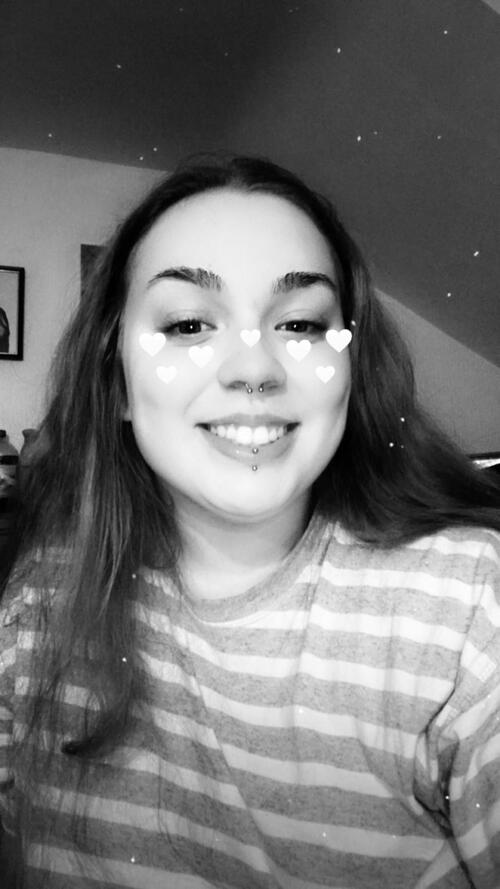 Kelsey: "I live out in the countryside so I don't see a lot of art."
Harvey: "I would like to see more 'practical' arts and culture. Things like people knitting items for those in need or charity concerts."
Aaron: "Arts and culture in Herefordshire is accessible, but not widely known about. We, as young people, want to encourage all young people that you don't have to know what you're doing to be creative, and if you search for something hard enough you will find it.
"Herefordshire has sparks of creativity and art, and it is people with a passion to write, perform, and create who can send the sparks across the county and escape to another place."
~ ~ ~
The Young Writers Collective, part of Ledbury Poetry Festival, is supported by the Garfield Weston foundation.
The group is co-ordinated by Toni Cook, who said: "This creative work is essential to the participants. It allows a safe space for self expression, for exploring new ideas and being part of a creative community. We comment on each other's work, offer praise and suggestions for development. It is a positive space where the participants are flourishing despite the challenges of lockdown."
And ICYMI, Ledbury Poetry Festival is going online for 2020.
You can register for digital events here. Events on July 4th and 5th include performances from UK Poet Laureate Simon Armitage, Eritrean poet Ribka Sibhatu and translator André Naffis-Sahely; a celebration of European poetry, with Maarten Inghals (Belgium) Paata Shamugia (Georgia), Sigurbjörg Thrastardóttir (Iceland) and Franca Mancinelli (Italy); Kaveh Akbar and Danez Smith; and Los Angeles poet laureate Robin Coste Lewis.