Discotek ran immersive house nights at The Venue, held a residency at Play and carved out a raver's paradise in the Bartestree woodlands for their sell-out day festival Into The Woods.
Hereford duo Ross Powell and Tom Howell chose a church for their last takeover – and with fellow local house music brands Kaleido and Outbound teaming up this weekend to throw a party inside a brewery on the outskirts of town – we got the Discotekkers thoughts on why venues matter, and how clubbing doesn't necessarily need a club.
In their own words (+ pics by Jack Helme Photography)...
Running events in symbolic environments whether it be within a church spire or a natural piece of woodland has played a big part in our vision for Discotek - providing platforms for people to gather and enjoy themselves in.
We believe it greatly enhances the experience for people dancing when they are able to look around themselves and feel a distinct energy off the space, not just the music.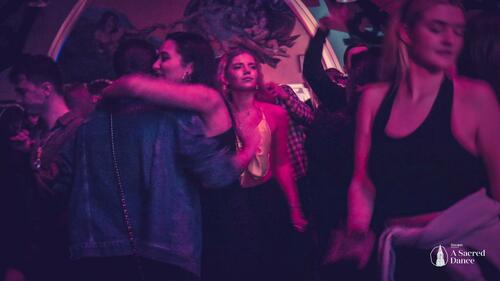 On Saturday 16th February we ran our first event outside of Herefordshire - in our current hometown of Cardiff. We sought after a unique venue to delve into and ensure that our first night in the Welsh capital generated a buzz. After a little bit of digging online, we stumbled across the perfect spot - an old church venue suitable for 300 people. With inspiring architectural features and a curved roof structure that acted as an acoustic amplifier, this building really excited us. "A Sacred Dance" was born.
As part of the promotional campaign we on-boarded five local Cardiff businesses as brand partners to help with our credibility in the area - these were all bought in to our project.
Whilst we were just shy of a sell-out crowd, we introduced our event and brand to countless new faces, and we received some incredibly positive feedback about the show. We also provided a platform for rapidly climbing house music producers such as @Parsec - a close friend who assisted on the organisation of this one  - and Mehlor - both highly talented with releases on international record labels.
Our next event is scheduled to take place on Saturday 4th May, in Hereford - keep a keen eye out for further information.