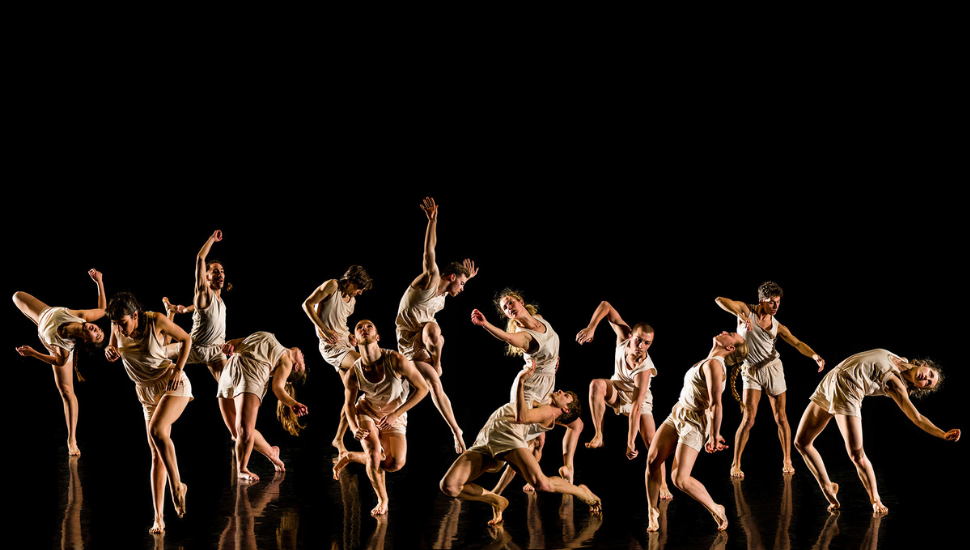 VERVE is one of the UK's top touring dance companies – not to be confused with Verve 'the coolest dance club in Stevenage', which is surprisingly high up the Google search rankings.
The post-grad company for the prestigious Northern School of Contemporary Dance – which among others, counts 2Faced creative director Tamsin Fitzgerald among its alumni – has a deep and international roster of dancers and choreographers.
Akram Khan - The Curry House Kid himself - has previously worked with the company, and one of pieces in this this year's anthology show comes from Maxine Doyle, the creative mind behind Punchdrunk's choreography in Sleep No More, one of the most ambitious and affecting pieces of live performance since theatre companies started building hotels.
VERVE is performing at the Courtyard on Tuesday night, entering in to the home straight of a 2019 tour that has taken them from Salzburg to Bishop's Stortford. After Hereford they go to London for a sold out The Place on Saturday, before they head home for a finale in Leeds the following weekend.
We caught up with creative director Matthew Robinson before tomorrow's show. Get your tickets here, it's going to be 100 minutes of aesthetic action you won't want to miss.
In three words and one emoji, how would you describe a Verve show – for someone who's never seen the company before?
Current, inviting and powerful (explosion emoji).
When you're on the other side of the stage lights – what kind of dance performance gets you to the edge of your seat?
We enjoy work that speaks volumes, presents the dancers in a physically expressive environment and makes us really feel something.
Check out some of the choreographers whose work we're performing this tour; Joan Clevillé @joanclevilledance / @scottishdancetheatre, Maxine Doyle @maxinedoyle1 / @punchdrunkuk, Ben Wright @candocodancecompany .
What's the best/worst/most misunderstood thing about being on tour?
We don't get to see as much of the places we go to as we would like, however the smaller venues usually have some of the nicest scenery.
I get the irony of typing this – but we live in a world where we're peppered by text from all angles. How do you think dance, as a wordless, physical artform, sits in that world?
Dance is something that provides a beautiful human connection. It's also something that doesn't need to be understood, it can be appreciated for its physical form and left to interpretation.
All performance hits harder when you see it live – but contemporary dance does so more than most. Where do you think that power comes from in live dance performance?
There is something about watching a human dancing on stage in front of you. We all have a body that we can relate to, you enter a space where you have no distractions, no phones; you give your undivided attention to it. 
If you had to hazard a guess, what's next for contemporary dance (and where's its evolution going to take it in ten years' time?)
Contemporary dance is very relevant to the political and social state of what's happening right now, we hope that it can continue to become more accessible for everyone that watches, and give an invitation for people to escape and enjoy movement. 
If you like live dance, stick a reminder in your phone for 2Faced's What the Moon Saw on June 6-8, followed by Ballet Cymru's Romeo and Juliet on July 4 both at the Courtyard in Hereford.