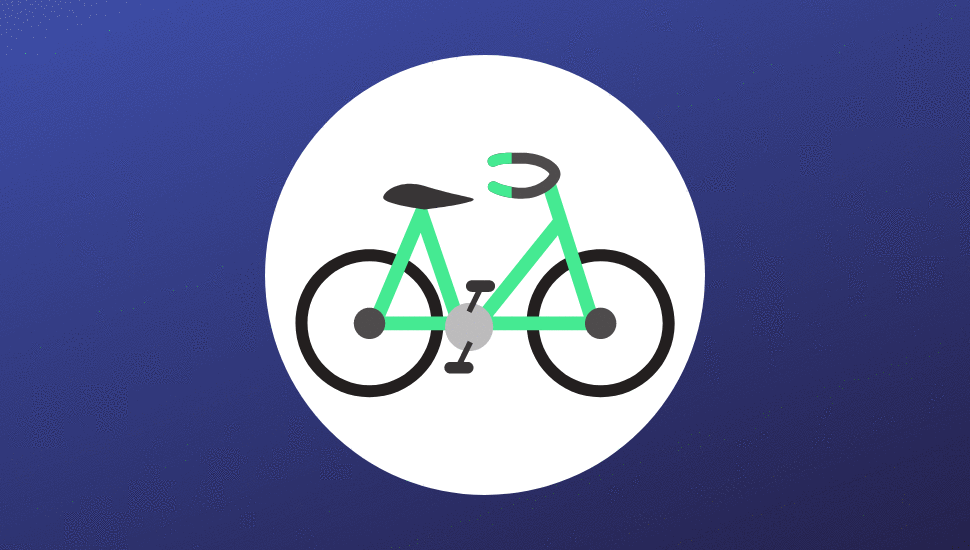 Bikes can change everything about a city.
Cities that develop a cycle culture are happier and healthier. There's also a growing body of evidence to suggest that they're better off financially from investing in cycling too.
This summer British urban bike brand Beryl is launching a bike share project in Hereford similar to London's Boris Bikes. They've signed a two year deal with Herefordshire Council. As a cyclist, you will be able to download an app that lets you unlock any unused lime-green Beryl bike you find around town, tracks your ride, and charges your bank card when the journey stops. Like Uber.
During their planning stage Beryl kicked the tires on Hereford as a cycle city and the results were fascinating.
While Hereford's long been touted as having a ridiculously high number of short car journeys - worth noting now that the 2016 Hereford Transport Survey suggested 74% of us travel less than 5 miles to work - there's plenty of underlying factors to suggest Hereford is perfectly-placed to solve travel issues through to a boost to bike travel.
This is not some worthy, lefty mission to get everyone to knit their own jumpers and cycle to the allotment. There's an avalanche of research showing that in the 21st century people are 'happier' when they engage with nature – however briefly – and interact with their community in a way that rarely happens when you're driving from your home to the office and back again.
Cycle cities also have less congestion on the roads. They attract tourists. And the queue at the doctor's surgery gets notably shorter.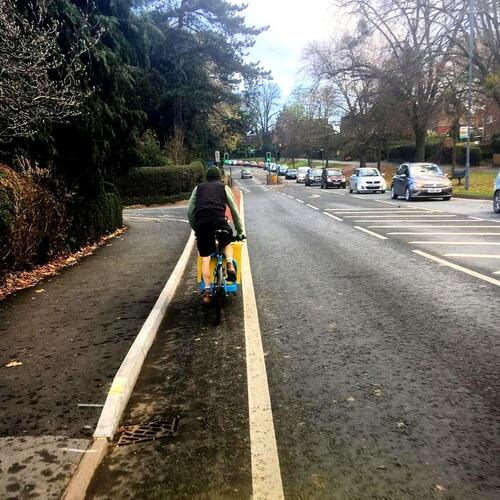 Copenhagen is the darling of civic planners looking to get people peddling. It's a big city and very different to Hereford. But with more than 60% of residents riding a bike to work or school, it is currently saving £199m in public health bills every year. £199 million.
The UK currently spends £2 per person per year encouraging bike travel, compared to around £18 per person per year in Copenhagen and Amsterdam. The launch of a Beryl scheme could be the moment where we start talking about Herefordshire leading the UK on this.
Pedicargo, based in Whitecross in Hereford, is already a forward-thinking company using cargo bikes for everything from city-centre recycling to delivering blood samples to the Hereford General. Planning has been approved for a £600k closed-circuit cycle track at the city's leisure centre, and we already have a dedicated cycle bridge connecting to Rotherwas' business district.
The arrival of Beryl bikes should get people talking about how bike travel might bring more people to – and staying in – High Town, making Hereford a destination for students, connecting arts and culture venues and highlighting Hereford's many open-air green-leafed assets.
We spoke to the team at Beryl to hear how that can happen, what they learned about Hereford's cycle culture through their research, and how the data these bikes collect could help inform Hereford's future as a cycling city.
---
You guys calculate a CPI (Cycle Potential Index) for cities. How does Hereford compare to other similar-sized urban areas?
Hereford's cycling potential is strong because the journey distances by bike tend to hover around the 15 minute mark (an example journey from Hereford Train Station to the Entreprise Zone is an estimated 16 minute cycle along the river!).
These are excellent cycling conditions as they pair physical exercise with access to nature, in a time frame that energises the body without depleting it. In a list of 380 urban areas across the UK, County of Herefordshire ranks in at 72nd. (See oobrien.com, a blog by a bike share researcher at UCL).
Also of note is that Hereford has an above average anti-vandal rank, which for bike share schemes is important. In a list of 380 urban areas across the UK, the county of Herefordshire ranks in at 101. (Again see oobrien.com). From our initial research, Hereford is a place where people share responsibility and take care of their collective resources - such as our bikes.
You can also look at the Propensity to Cycle Tool (PCT) which extrapolates data from the 2011 census (which is outdated at this point) to get more information about Hereford's cycling potential. Based on the map below we can see that the percentage of people cycling to work in Hereford is greater than neighbouring Worcester.
Based on government targets, we can see that Hereford's urban fabric is set-up to promote cycling. The UK government believes that parts of Hereford can hit a 15-19% modal share of people cycling to work - with the right incentives.
But perhaps most interesting is the potential for electric bikes to truly tip the scales in Hereford.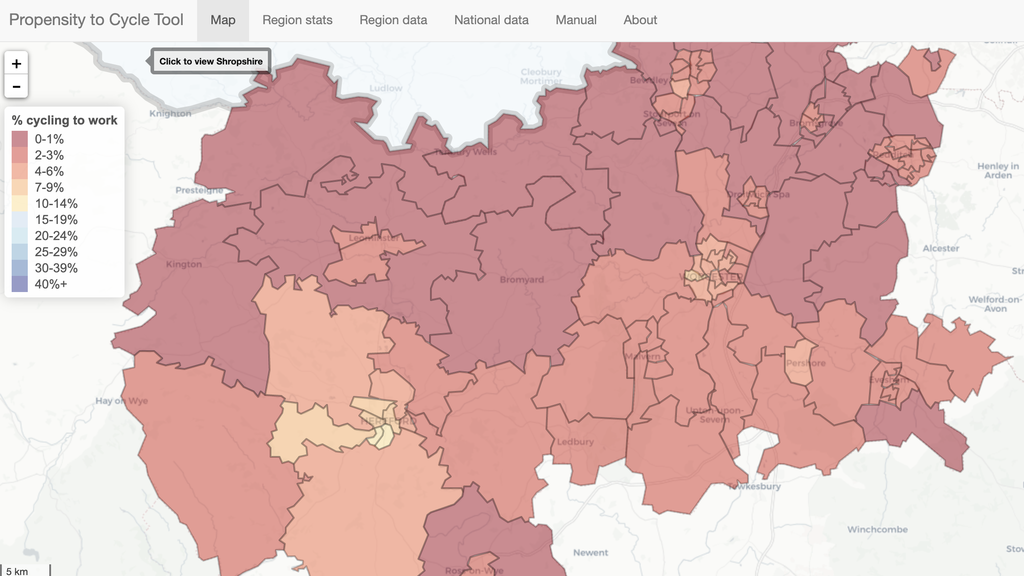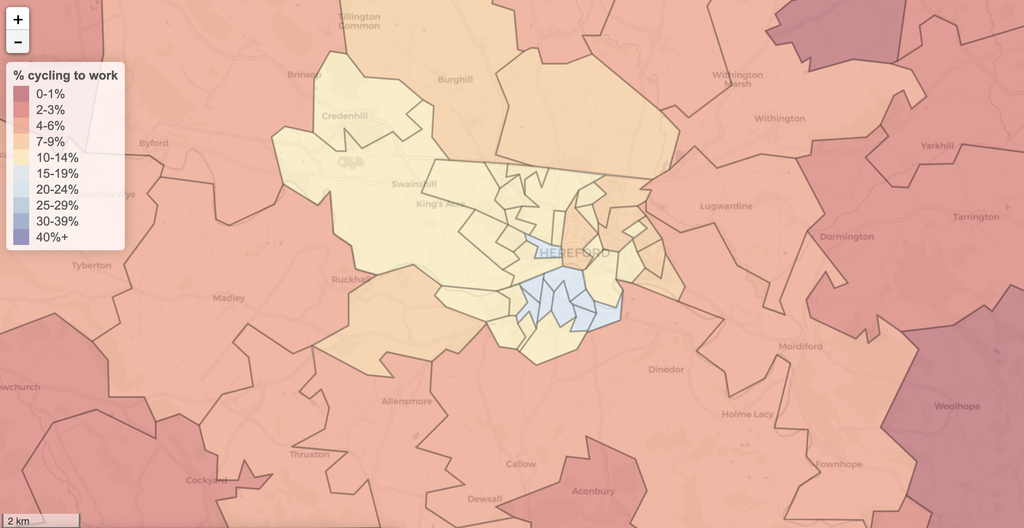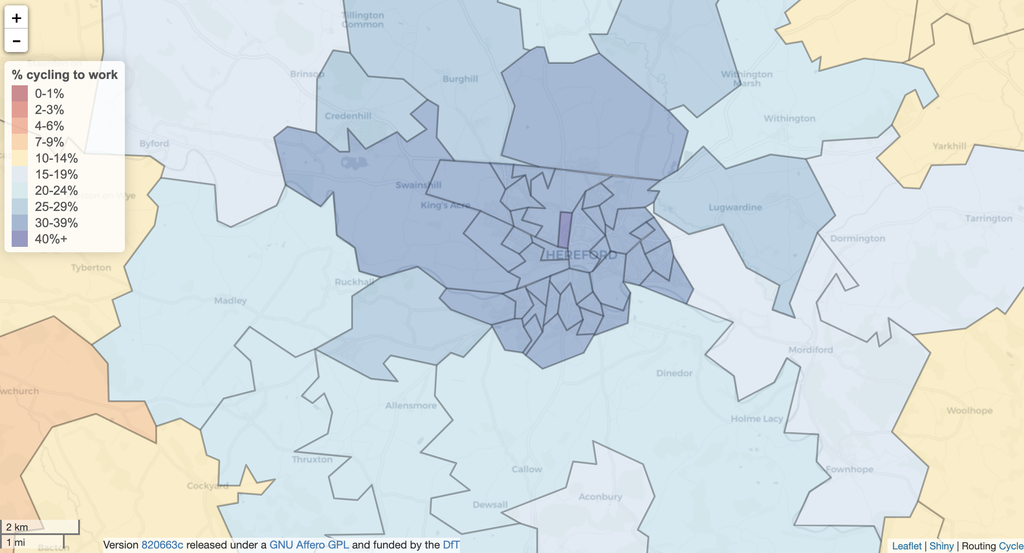 Are there differences in CPI from neighbourhood to neighbourhood? And what are the main factors that affect Hereford's score?
As you can see from the maps above the closer towards the centre of town you are, the higher the cycling potential.
The main indicator for a higher score is population density and access to amenities (jobs, housing, schools, hospitals, transport, and commercial / retail business) within close proximity. Other factors include the age of the population, their income, the percentage of the population who own a motor vehicle, the topography (how hilly or flat the area is), etc.
What triggers people to switch from car travel to bikes?
We have conducted focus groups to understand the reasons for switching, as well as asking panels of consumers to get a quantitative view. The responses that come back suggest that the most compelling reasons for people to shift from a car to a bike are for health (to start active commuting), to save money, and to save time.
In addition to these factors, building safe and protected cycling infrastructure and promoting a culture around casual cycling is what's worked in the world's greatest cycling cities (such as Amsterdam, Copenhagen, Portland).
Behaviour change initiatives work best when supported by physical change to the urban environment which lets all road users know that their safety and wellbeing is being prioritised, no matter what mode of transport they choose to use.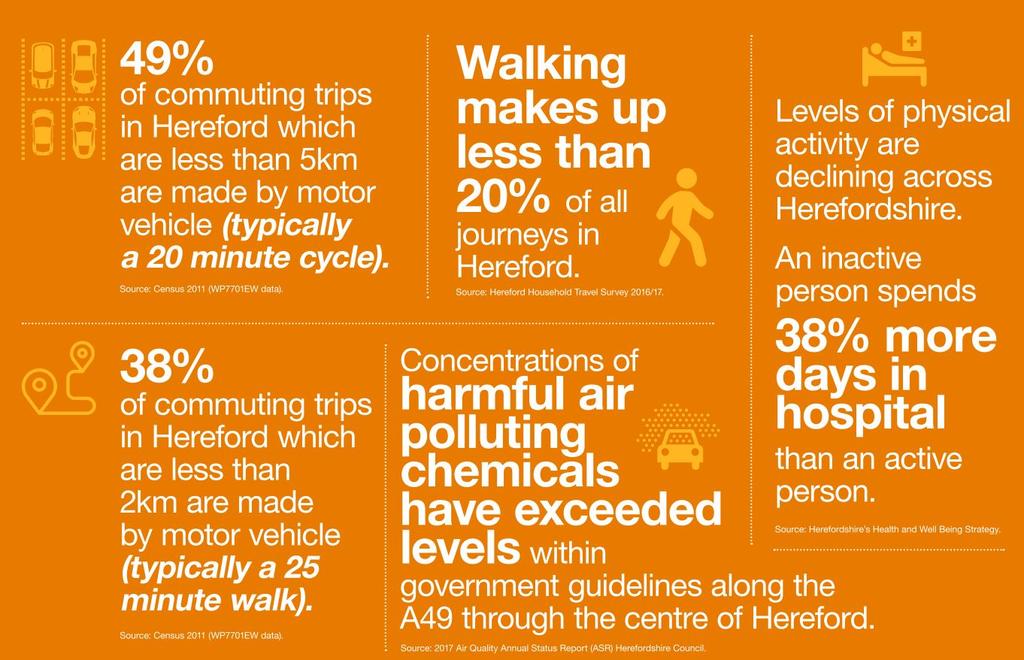 Are there any underlying trends you've noticed in other cities of how cyclists use Beryl?
It is too early to tell on the schemes we are currently running.
How can local authorities use the journey data from Beryl bikes to make city planning more efficient and inviting?
We have GPS embedded on the bikes which means we track the journeys at a bicycle-level, not on the riders' phones. This enables us to provide tracking of the journeys at an aggregate level, completely anonymously, to local authorities.
We provide this information to local authorities via a dashboard which they can access themselves and see updates in real-time. Unfortunately we don't yet have our own case studies to demonstrate the efficacy on this data on changing policy or infrastructure plans.
What are your favourite continental examples of cities that do cycling well? And what do you think goes in to creating a true culture of cycling in a city?
The obvious examples of cities leading the way in cycling are Copenhagen and Amsterdam. However there are some lesser-known cities that do a great job, including Portland, Bogota, and Montreal.
The Founder and CEO of Copenhagenize, a consultancy for urban cycling in cities, Mikael Colville-Andersen, spoke to us on our podcast, Movement by Beryl, and gave us some really good ideas for how to progress cycling infrastructure in our own cities, including small infrastructure changes that can make an enormous difference to a city.
However, the most important thing is for spending to increase. The UK spends around £2 per person on cycling infrastructure, whereas Amsterdam and Copenhagen spend closer to £18.
In countries like Belgium, they have tax relief for people who cycle to work, recognising that active commuting reduces congestion and contributes to their health, both outcomes having very quantifiable impacts to the State. It is the big ticket items (the improved infrastructure, incentives) which will get the masses cycling. We exist to get more people on bikes, but we recognise that has to be done in tandem with local authorities and central government. We are proud to play our part in making bikes available to as many people as possible, and to be making journeys as convenient and comfortable as possible.
What evidence is there to show that higher cycle journeys change the culture of the city? 
We would recommend the following sources:
Your Bournemouth case-study talks about tourism. How can having cheap, freely-accessible bikes affect a city's tourism industry?
As we haven't yet launched in Bournemouth, we can't comment on the actual impact that bikes have had on the way tourists get around the city. But anecdotally many people in the Beryl office have used bike share when they've visited a new city, and loved that it enabled them to explore and find new parts of the city they wouldn't have otherwise seen.
We encourage tourists to use the Beryl bikes when they're visiting the areas we operate in, as we believe it's the most engaging mode of transport if you're in a new city, not to mention it will ensure you enjoy the local food when you've spent the day on and off a bike!
Do you think people make the connection with the environmental benefits of having less car travel when it comes to using bikes?
Personally I believe that the increased focus on the dramatic and negative impacts of air pollution will undoubtedly have an impact on the way people choose to travel. This is particularly heightened in cities, as there is a focus on reducing pollution near and around schools.
However, change is unlikely to happen without incentives or regulation.
There's a nice line on your site about cities being "places where the currents of humanity criss-cross". Is there data to show how bike transport encourages people to dwell longer in towns?
Pedestrian Pound report by Living Streets cites that "walking and cycling projects can increase retail sales by 30% or more". And Jan Gehl (gehlpeople.com) do a lot of work on places for people and the importance of social infrastructure and interactions within the public realm.
This piece by Gehl is old but right on target for what you're talking about in Hereford.