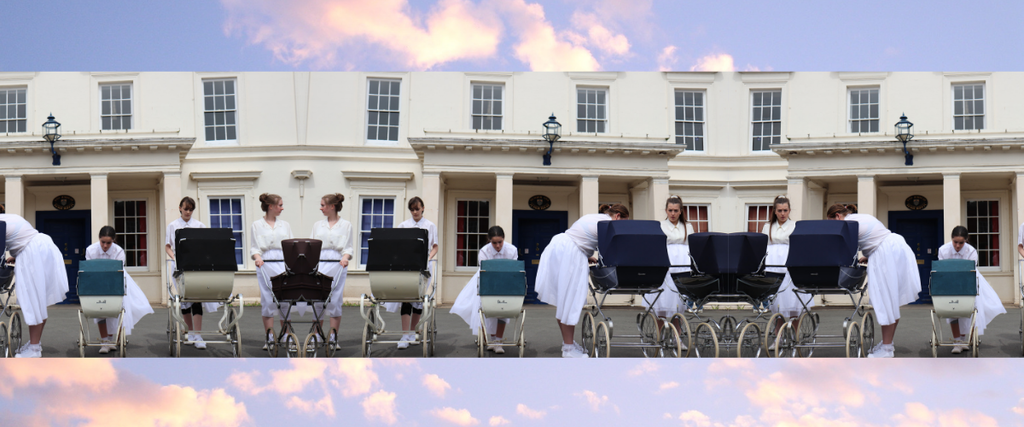 Estelle Van Warmelo (pictured) is turning stories of women and their love for unexpected babies in to the kind songs you'd hear drifting over the fence while pegging out washing or dropping the kids off at school.
Hush Now Hidden Women is the latest performance from Feral Productions.
It takes audiences inside the former mother-and-baby homes of Hereford where, for 100 years, girls who had been told they had no place, found one.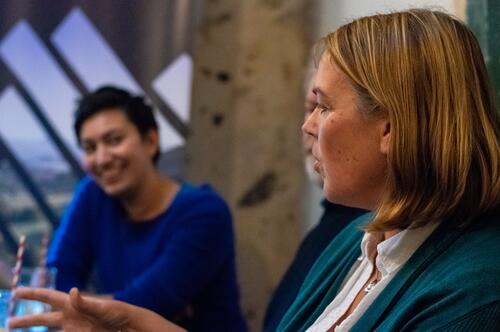 "These stories are harrowing and, until now, have been hidden. But there's a lot of positivity as well. As for the women who lived in the homes, some had better times than others," says Van Warmelo.
"It was hard - it was definitely hard - but for some of them they were genuinely better off than they might have been. And there are some truly wonderful human stories about how they were looked after."
Across the world and across the last century young women who found themselves pregnant, often through abuse, sometimes incest, but always at a point when they needed the support of those supposed to love them, were sent away, effectively hidden and rehoused in one of these facilities.
When the small side door of an apparently anonymous building at the end of her street turned out to be an entrance to one of these mother-and-baby homes, Van Warmelo set out tell the stories behind similar doors across the county.
"Many, many people would not speak to us. Others would speak to us anonymously. Other people were very free with their information.
"There was a deputy matron from the St Martins home in the 60s who came forward. Talking to her was incredible; she was hugely protective of the girls in that home and an extraordinary woman, but talking to her really opened a valve. People would grab me in passing and say 'I hear you're doing something on the homes…' and talk to me for five minutes.
"If there's a finger to point anywhere – in Hereford's world, as opposed to the Irish institutions – is not at the treatment they received in the homes but the treatment from society; the taboo, the stigma, the rejection.
"This was hiding away of women who were very often not pregnant through their own doing or at least consciousness. Incest was responsible for a phenomenal percentage of the unplanned pregnancies in Hereford."
That social stigma isn't some shameful corner of history confined to an era when We Didn't Know Better. The last church-run home closed in the UK in 1996. There was one still in operation in Hereford in the late-80s.
And the idea that our collective wokeness has followed a smooth curve since the first recorded home opened in Hereford the 1800s is not one borne out in the research for Hush Now. Research meticulously carried out at Herefordshire Archive and Record Centre (HARC) at Rotherwas, jsut outside the city.
"The worst era, in terms of society attitude, was the 50s. Unquestionably," said Van Warmelo, who commissioned researcher Elizabeth Semper-O'Keefe to trawl through the archives at HARC.
"We are spanning a 100 year period so the circumstances are very varied, but we found that society in the 1950s was more judgemental than the 1880s."
To give voices to the 'unheard' women, Feral Productions collaborated with Ledbury poet Sara-Jane Arbury who turned archival research into verse. Her verses were then turned into theatrical songs which were - gorgeously - performed not only across Herefordshire, but on the streets of Dublin, corners of Amsterdam and anywhere the performers happened to be, and could find a legacy of mother-and-baby homes.
These pop-up performances were recorded on Feral's Instagram account. You might have heard one of these songs while passing by a window or through a park, without even realising. The idea was to have singers hidden from view, their songs drifting in to the world.
Hush Now culminates with a series of promenade performances around Hereford city between May 28 and June 1, 2019. Audiences are led between nine different venues – places once linked to mother-and-baby homes that have since become offices or school changing rooms – before a final piece at the Powell Theatre on Church Street.
The audience looked up to see a woman in white standing, still as a stone, in each of the windows, while in Cathedral Close young girls, all dressed in white, pushed empty prams around and around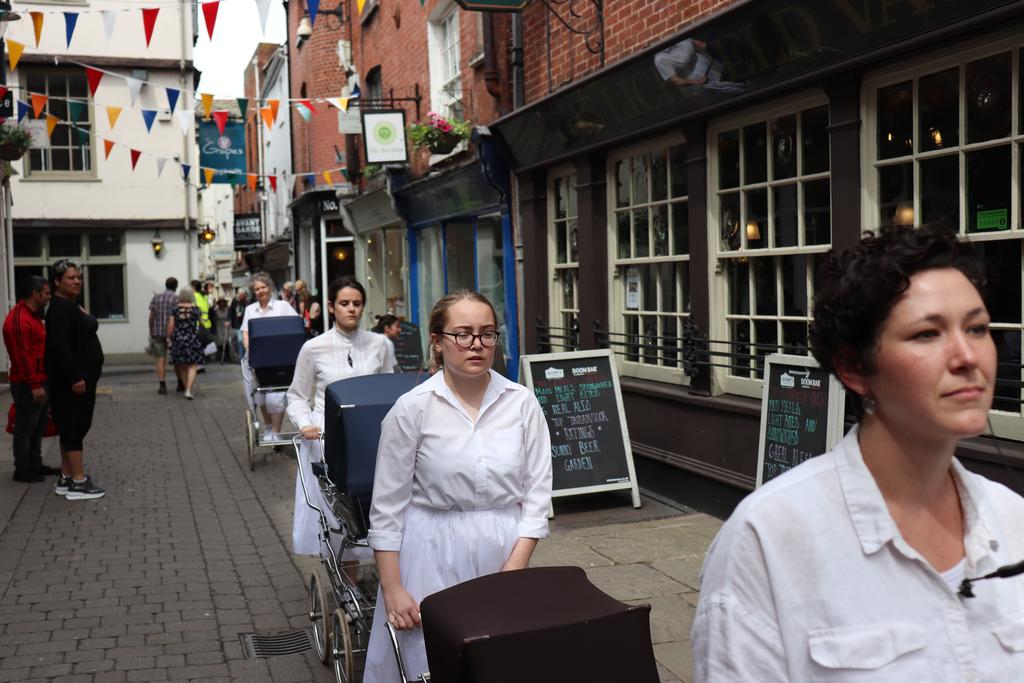 "As lot of it was centred on the place," said Van Warmelo. "That was how we could categorise the research. I'd look at it and say – I want more on this building, and what happened there, and how it changed.
"You're aware that the material you have in your hands is really significant; personal and delicate. When I'm working with the writer, our yardstick has been always 'are we honouring these women and their stories?'
"Where there's oppression, there's art. There's a purging going on socially. People just aren't putting up with unfairness in a way that they used to accept. If you look back at the suffragettes, that's when it started.
"But with #MeToo it feels like there's a sense of these stories being told. Our stories in Hush Now are not told literally, they are told metaphorically, in essence – but the stories themselves are out.
"There's something of a relief about it. It's society of saying 'This happened, and it shouldn't have. Let's not be gagged by it. Let's free ourselves. Let's move on.' It's empowering."You
---
Read a review of Hush Now from the Hereford Times: www.herefordtimes.com/news/17671757.review-feral-productions-present-hush-now-hidden-women/