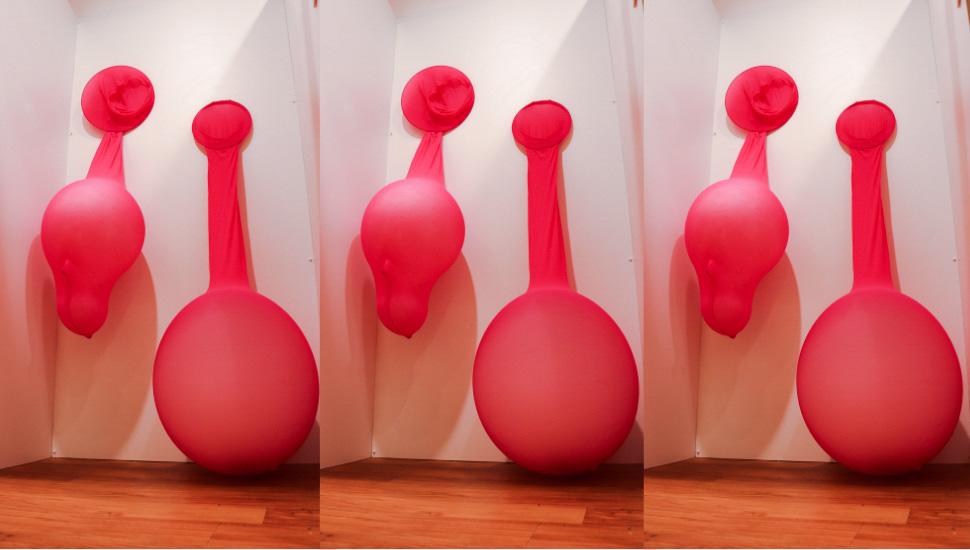 Over the weekend HCA Fine Artists took over one of the vacated, former-Tie Rack shopfronts in High Town to showcase their fine art.
You might have noticed the vague outline of a rough sleeping sculpture in the doorway on the way to Maylords, or stylised photos of Hereford's wartime, bomb-making Canary Girls hanging in the window.
You might not have. Which is a shame, but that's why we took a few pics for you.
Either way, keep an eye on the gallery space on Gomond Street as HCA regularly fill it with free installations and art shows far more interesting than a Tie Rack or yet another Costa.
(While you may have missed out on this one – check out the fascinating Textiles In Context exhibition currently running above the Hereford Library)
Untitled (2019)
Kirstie Lewis
"My current work is looking at social and personal sensitivities to the homeless and displaced in the world. The work grapples with the ethics of artistic agency.
"I create physical responses to everyday life from everyday materials.
"The misuse of a material, from its designated function such as toilet roll and cardboard asks the viewer to regard what they understand of their everyday and the implication of labelling and social compartmentalisation."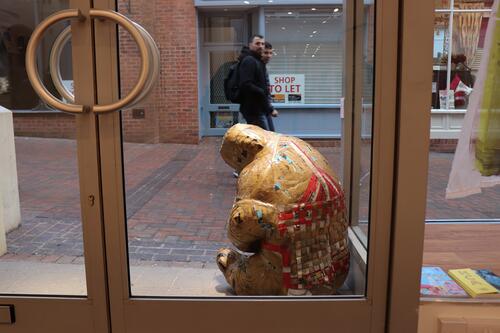 Pink and Bulbous (2019)
Holly Vivers-Humphreys
"My practice is informed by my research exploring themes of femininity and female roles in cinema.
"My art practice looks at materials and how they may represent the female form, materials such as fragile wax, women's hosiery and balloons. There is a fetishistic quality to the materials, which brings sexuality into the act of looking.
"This piece enters the domain of female sexuality with suggestion towards the realm of adult toys."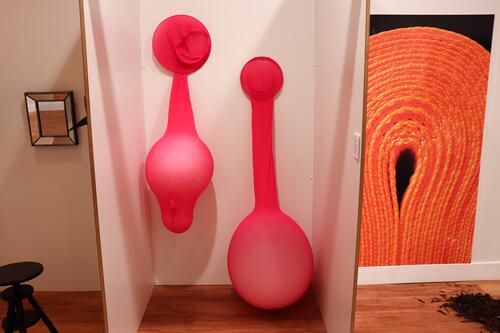 Strange Fruit/ Daily Struggle/ Untitled portraits (all 2019)
Abbie Leigh Phillip
"I am interested in exploring the identity of black women through the amalgamation of my own and others' experiences.
"Utilising hair and experimenting with charcoal, I have reflected on how attitudes have gradually changed; the idea of beauty expanding its meaning to incorporate all races, including those who have historically been categorised as undesirable."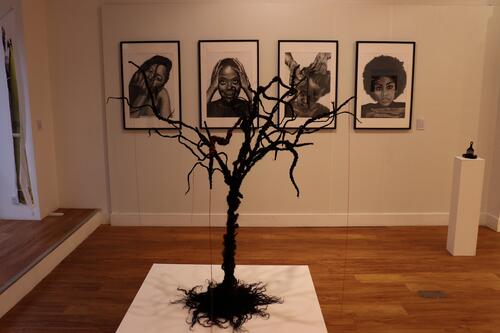 Fine (2019)
Jess Nicholls
"My work delves into the realm of the uncanny - using my own head cast in wax to explore both the materiality of wax, it's sculptural possibility and temporary nature, as well as the urgency of the passing of time and human fragility.
"As a confessional piece, the connotations of self-destruction reflect on my own personal distress when facing anxiety and poor mental health."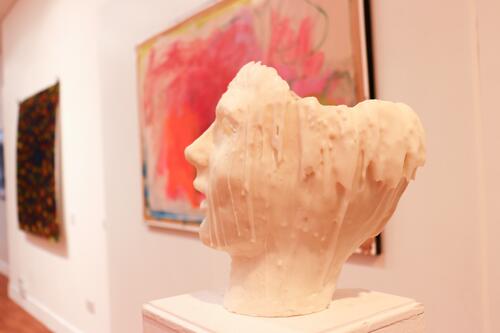 What makes a painting? (2019)
Matias Serra Delmar
"My current work exposes the active compositional process of painting - deliberations and thoughts hiding in the process - and become physically manifested as linguistic text and active aesthetic marks."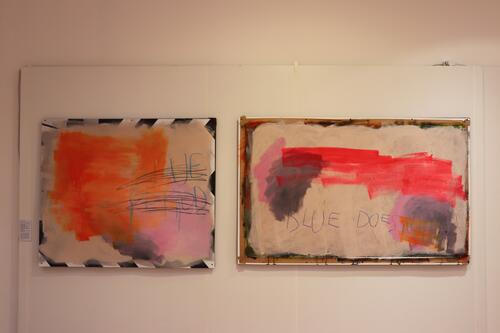 Sullied (2019)
Lin Mathias
"I believe that art has a huge role to play in society in order to evoke social change. My work seeks to acknowledge the debt paid by both female artistic and socialist radicals who have gone before, paving the way for the present.
"I experiment with mixed media, and push the boundaries of my own capabilities; something always happens to surprise me."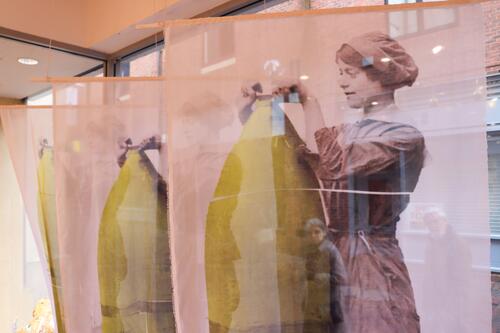 Mixed Messages (2018)
Sandy Brooks
"My childhood is depicted in my sculptures. They revere people and places, they tell stories. They are truth, yet they are fantasy.
"They are both joy and sadness. They connect the past with the present.
"As a child, I was a dreamer. My work is my indulgence."