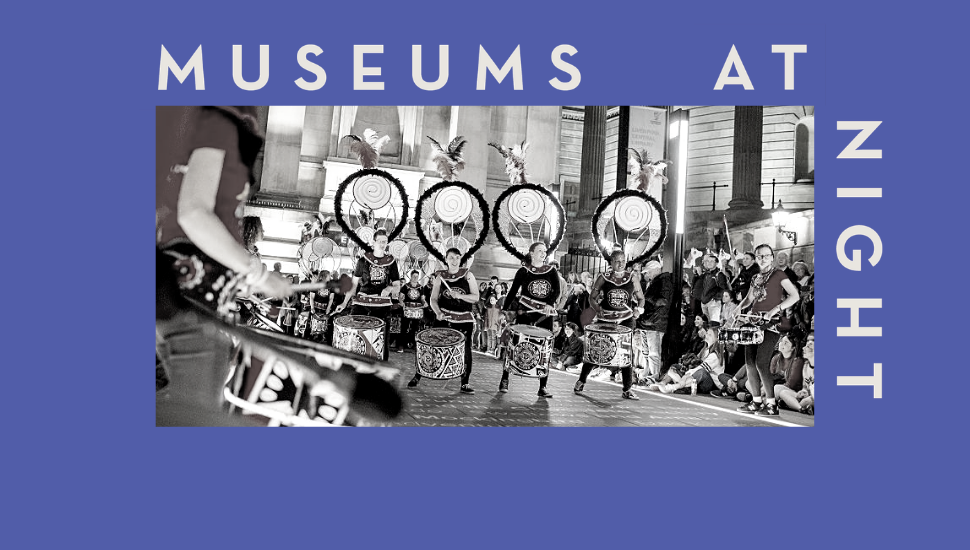 Every May and October we like taking part in Museums At Night. 
It has absolutely nothing to do with Ben Stiller. Museums at Night is a UK-wide programme of Lates - after hours events that take place in museums, art galleries, historic buildings and libraries across the country.
This year there will be live tattooists and PJ sleepovers in Georgian mansions. Probably not happening in the same Georgian mansion, but still.
Lates events often fall into two categories.
Either the venue creates a unique experience – maybe a light projection in the Lakes or a debate on the cultural importance of the eyebrow in contemporary female identity - that is guaranteed to get people talking and Tweeting about the event and the venue. Lates audiences will, hopefully, experience and relate to that location or collection in a wholly different way than they would in daylight hours.
Then there's the second way, best be summarised by We've Got A Really Cool Space But No-One Under 50 Knows We're Here – Let's Screen Black Panther And Maybe They'll Come Back With Their Kids.
Both can be big earners if done right and, arguably more importantly, can reintroduce these beautiful, fascinating cultural venues to new audiences.
Put a DJ in a museum and cocktail in someone's hand and you can strip away the idea that these buildings Aren't For Me. They open culture up. Similarly, take that same cocktail out of someone's hand, swap it for a sketchbook, or a telescope, or a fork and as a town you might begin to build a night-time economy with a generation of people who are drinking less and less.
Sadly – following many Google searches – as far as we can make out there aren't any of those events going on in Herefordshire during the May 16-18 Museums at Night festival.
There'll a second bite when Museums at Night returns from October 30 to November 2. And while the Herefordshire's a Great Place project is looking to get some Lates programming off the ground later this year, we thought we'd provide some #inspo and roundup what is on offer right now whether if you're willing to travel.
Things almost local
Tattoo Live @ M Shed, Bristol
At this cool dockside museum in Bristol Museums at Night is co-inciding with M Shed's launch of a new exhibition on tattoo art, featuring more than 400 pieces that trace the history of ink art from sailors to socialites.
On Thursday May 17 they're hosting talks from world-renowned tattooists; having a drop-in with tattoo artists to answer questions about getting inked; hosting a pop-up Henna tattoo parlour and a poster-making workshop with a press team helping you make your own vintage poster using tattoo art. They've also got music, a beer and barbers alongside the official exhibition opening.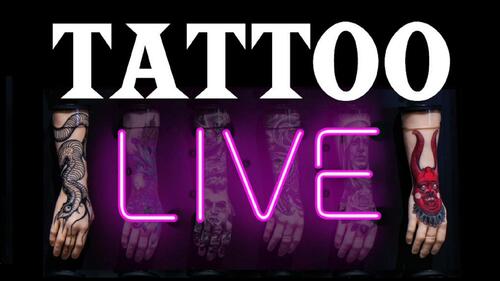 Death Café @ Coffin Works, Bristol
Coffin Works is a restored factory in Birmingham's Jewellery Quarter that used to specialise in making the brass fittings for coffins.
On Friday May 17, they're running a Death Café with their writer-in-residence getting people talking about passing away in as open a way as people feel comfortable doing – then holding an atmospheric tour of the Victorian factory.
Up On The Roof @ the Old Library, Cardiff
On Thursday May 16 there's an after-hours 'illustrated' tour of the great Cardiff library that finishes up on the roof over-looking the city skyline. The venue also has a recently-converted and highly-rated restaurant on site where you can book for food a four-course sit down after.
London Stuff 
Friday Lates @ The National Portrait Gallery
As the name suggests, the National Portrait Gallery run late-night openings every week. They're very good at it.
This May you can get a free guided tour of the Martin Parr exhibition, sit in on a conversation with another brilliant documentary photographer in Dana Lixenberg, crash a Drop-In Drawing session where you can sketch some of the gallery's pieces with artists Alison Kusner and have a boogie with a live DJ in the Main Hall (both free).
Tate Lates @ The Tate Modern
Tate have been on this Lates thing for a while as well and get thousands through the door on the last Friday of every month – so technically they miss the window for MAN, but are well-worth checking out.
They give each month a theme – May is Jenny Holzer's Inflammatory Essays – and host everything from poetry readings and film screenings, to zine-making workshops, debates, Ten Minute Talks as well as DJ sets in the Turbine Room and street food outside. They've also snagged a big sponsor in Uniqlo to help out.
Friday Late @ the V&A
The monthly Friday night event at the V&A bills itself as the "original contemporary late night event", and it's natural partner for the format given how open the museum has been in recent times to engaging with the fashion and art industries.
The format tends to be pretty open, allowing visitors to move freely through the museum and explore live performances and workshops in response to exhibitions, DJ sets and debates – as well as using it as place to showcase emerging artists.
Lates @ The Science Museum
This one's interesting. Whereas the Lates audience at the Tate and the V&A is likely not vastly different to the people perusing their exhibitions on a Sunday afternoon, the Science Museum – arguably the greatest, interactive playground for young minds in the country – markets its after-hour programming as 'adults-only'.
It happens on the last Wednesday of every month, features a silent disco, 'talkaoke' and mini-golf as well as a load of TED-style talks, and parlour games and interactive workshops that are meant to wake up your own childlike wonder. You can use the museum's simulators at a reduced price, and get a look at some of its more spectacular objects not usually on display.
It's free, for over-18s only and they regularly get 4,000 people attending.
The Best of the Rest 
Anaesthetic Murders @ The Association of Anaesthetists, Marylebone, London
You run a pretty niche museum albeit about a crucial scientific development – how do you make it relevant to a wider audience?
This museum got on that True Crime pony and is running an after-hours expert talk on the scandal of anaesthetic murders to in part coincide with an exhibition on deadly arrow poison. You can then go and 'pick your poison' as part of gin-blending masterclass downstairs.
Light Up The Lake @ Windermere Jetty, Cumbria
A museum about boats and steam travel set at a spectacular lakeside venue, the Windermere Jetty is using MAN as an opportunity to showcase a series of spectacular light projections made as part of the Light Up The Lakes project.
After getting people outside, they're then running Conservation Conversations hosted by their team about environmental issues facing Windermere (and more generally) and have performances of traditional sea shanties.
Sleepover at Stowe @ Stowe House, Buckingham
This is arguably the best family-friendly event on the list.
Tied in with a more general celebration of Queen Victoria's 200th birthday – the organisers are getting parents and kids to help them get the Georgian House ready for the Queen's 'arrival'; running craft workshops to help decorate the rooms, and telling stories and playing party games when she arrives. They can then sleepover at Stowe House - as long as they are accompanied by an adult.
Brews and Brows @ the Garstang Museum of Archaeology, University of Liverpool
Light Night Liverpool is a one-night, city-wide arts festival that happens to coincide with Museums At Night. One of the more unusual events going on is Brews & Brows which looks at the Very Liverpool concept of the Scouse Brow – and what the (bad) perception of it says about the city, and about the way female beauty standards are talked about in the media.
The pop-up exhibition is features a load of interactivity – you can get your own brows scanned, have a fashion photographer take your portrait, and share your own story in a photo booth – as well as having a brew.
You can check out all the 2019 Museums at Night listings here - not included in the list above is the 60s-style Alex Katz show complete with cocktails and the opportunity to 'Katz' yourself; an immersive experience at The O2 about the history of the music festival; and a knees-up in Bath's iconic Pump Rooms.
There are undoubtedly unaffiliated Lates taking place too. If you know of something worth sharing, get in touch.
To find out more about getting involved in a Lates programme in Herefordshire in October and November 2019, email greatplace@ruralmedia.co.uk.