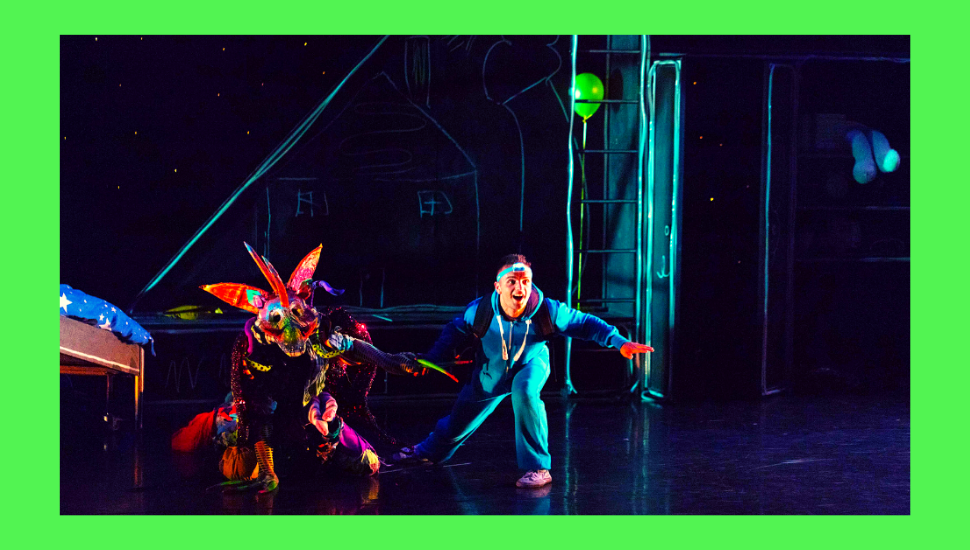 Watching ET or the Goonies as a kid, you sat in front of the screen and you were, for an hour or so, part of that gang, you were on that adventure. It's a genre that 80s film-makers made in to an artform.
When Tamsin Fitzgerald sat down to make 2Faced's first dedicated touring show for kids - who, had they been born thirty years ago, might have been shuffling up to the screen and mouthing 'phone…home' - she wanted to take her young audience on their own adventure.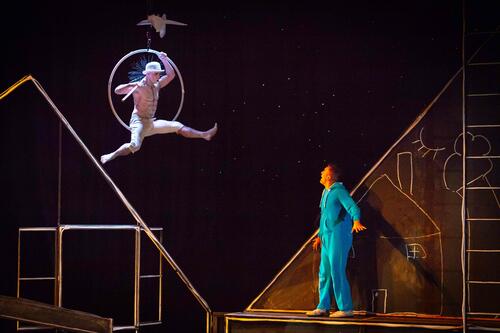 What The Moon Saw is the beautiful, visual story of shy boy bringing colour and confidence in to his own life as he travels the world each night with his new friend The Moon before, finally, he's happy to step out in to it his own. It returns to Hereford this week for five shows over three days. 
The show was reimagined for the stage by Fitzgerald, 2Faced's artistic director, and Elle While – who was the director of another page-to-stage adaption, the NT's beloved Curious Incident of the Dog in the Night Time show on the West End, and who helped with the theatrical side of the piece.
They took an "honestly quite-dark, quite-racist", quite-Hans Christian Anderson Hans Christian Anderson book, and turned it in to explosion of life and movement that plays out on a huge blackboard. The set itself becomes covered in lines and doodles and flashes of colour until, when the house lights come up, the kids are invited up to play and draw and doodle themselves as they hang out with the characters they've just been around the world with.
"With storytelling kids just accept it, they enjoy it, they don't question it the way adults do," Fitzgerald said.
"It's a journey that we're taking them on, like bringing a book to life in front of them. It's exciting to see it happening.
"There are moments when they're sat there pointing and calling out at the dragon, and then there are these moments when they are sat perfectly still, like in ballet."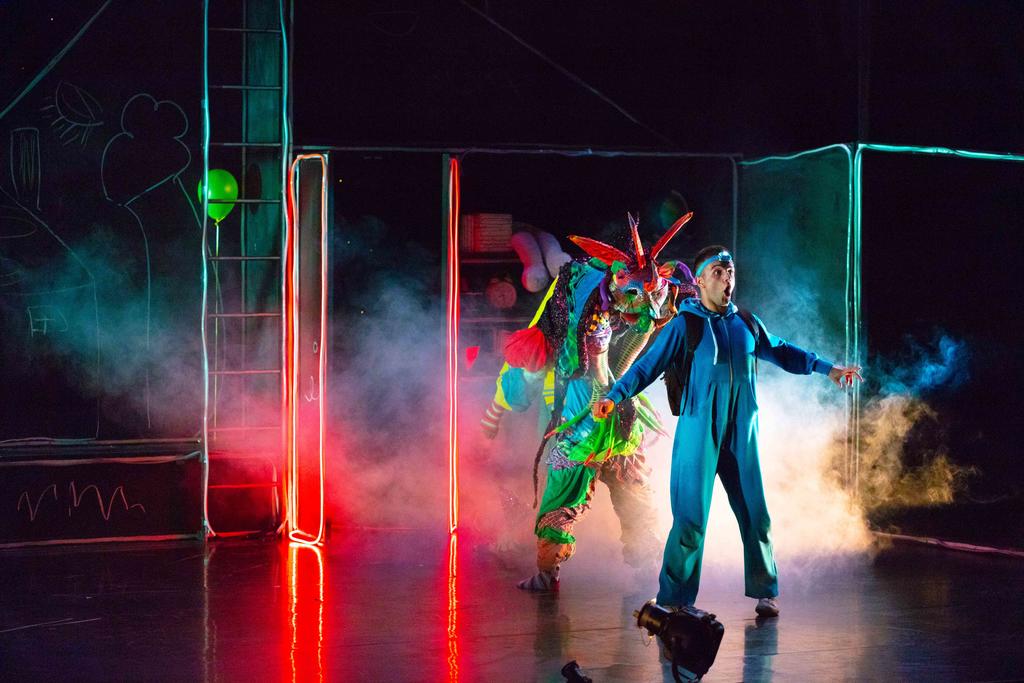 //Tickets are available - but selling quickly - for 2Faced's shows at the Courtyard this week. Go to the Courtyard's website here for tickets.//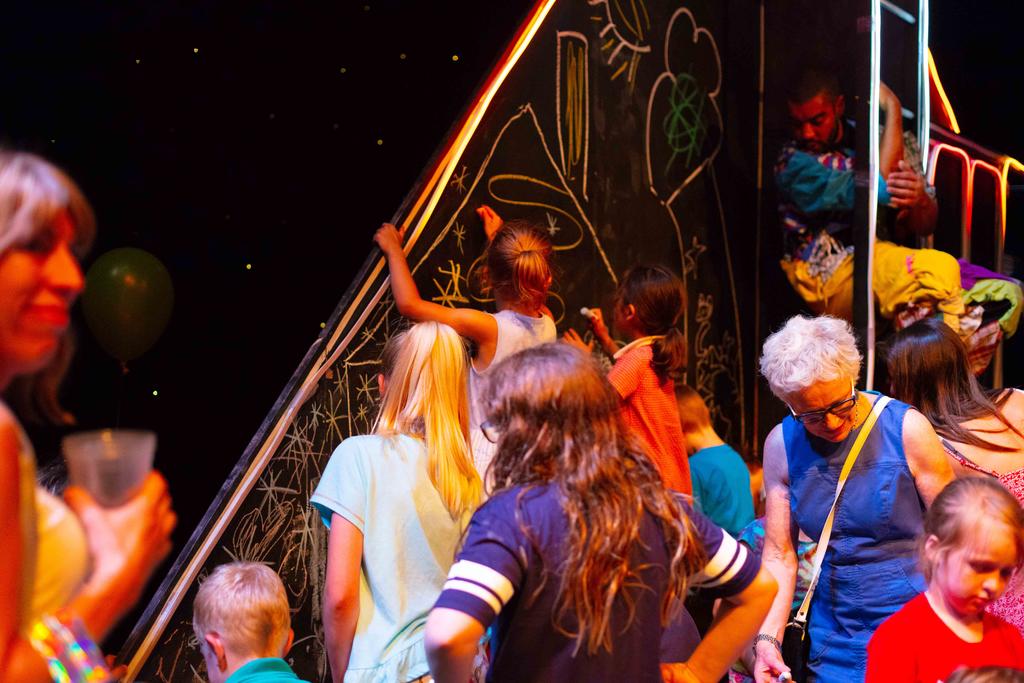 A big part of what has made Moon a success – it's now in its third year of touring, and this year the Hereford company took it Hong Kong – is that for those kids who might have had their nose pressed up against the TV screen, Moon lets them go in it.
The whole experience is designed to take them away somewhere "not just for 45 minutes in a big empty theatre", but for an afternoon, an evening, from the second they set foot in the theatre – for many, for the first time.
Adults and kids play together beforehand, making arts and crafts. In Hong Kong, they were rolling around on the floor with the dancers, the children – often from single-child households – 'surfing' on top of parents and just playing in a way that isn't entirely commonplace in Chinese households.
When they were creating the piece, the idea came up – why not invite everyone on to the stage after to finish off the drawings.
Now, there's no parents rushing to the car park. Long after most dancers would be back on the bus, or in the bar, Moon's performers are playing on stage, in costume, sometimes as long as an hour and a half after the show finishes.
"Whether you realise it or not, as adults we like that full-er experience," Fitzgerald said. "You might go for a drink before, food after. You talk about it. But it all ties in to how you experience the theatre.
"I thought a lot about the experience of theatre as a child – and going to see a show.
"In a lot of cases it's their first glance at theatre, and contemporary dance. Some kids just haven't had the opportunity. Either through their background, or through school, to be able to go to the theatre.
"You see the kids come up on stage and they're talking about it. And they're really, genuinely excited. They want to go and touch the dragon head, and explore it all more.
"When it comes to understanding movement, kids always know more than you think they know. They understand. Whereas all the kids might not get all the narrative, I don't think it matters."
2Faced is an all-male company who tour intense, more-abstract shows known across Europe for their power and their physicality.
Moon isn't a total gear-shift. Like most contemporary organisations, they've long-had a roster of outdoor pieces for festivals and town centre performances that are often more playful, often more panto, and occasionally include far more spandex than their theatre shows. Those pieces take their talents out to the places and to the people who might otherwise not find them.
That said Moon is a change of tone. What it's proved is that doesn't have to mean a change in quality.
"I think there's a bit of snobbery around children's works in the arts. It's seen – generally – as a lesser thing," Fitzgerald said.
 "Actually often female choreographers can get tagged with – 'she's a female choreographer but she does a good kids' show'.
"Our dancers are quite young, none of them have children of their own, and some of them are relatively new to teaching. I just told them that's what we're doing - but I don't think it's everyone's cup of tea.
"Although for all of them I think it's made them better performers because they're able to a) not take themselves too seriously, and b) use take to approach a piece from a theatrical, narrative background that's very different to how we work in contemporary dance.
"There is a perception that childrens work sells – because, in a sense it's easier because you're not having to sell something that's abstract or conceptual. It is a broader context.
"It doesn't necessarily sell. But it really builds your audiences. You introduce dance to them at a younger age, they might then come along to your classes, and then you can begin to introduce them to maybe the outdoor shows, and then they might come to a touring show."
In the same way ET and the Goonies were still such strong, emotional touchstones for Fitzgerald years later – Moon, and that experience young audiences have had across the country stepping in to its world, could be a moment that stays with them for the next twenty years.
All images credited to Luke Evans for 2Faced Dance.