Herefordshire Cultural Partnership (HCP) has published a new report that takes a closer look at stimulating the county's cultural and creative industries.
The Get Creative report has been commissioned by not-for-profit HCP as part of the consortium's ongoing bid to support and strengthen the county's creative scene. It is designed to stimulate discussion about the potential stored within the local creative industries.
Informed by surveys, case studies and desk research, the report sets out nine ways in which the creative sector might be boosted. This includes investing to build a recognised creative cluster, filling empty retail units with cultural enterprises, joining the UNESCO Creative Cities network, recognising the impact of festivals, and a fresh bid to become a UK City of Culture.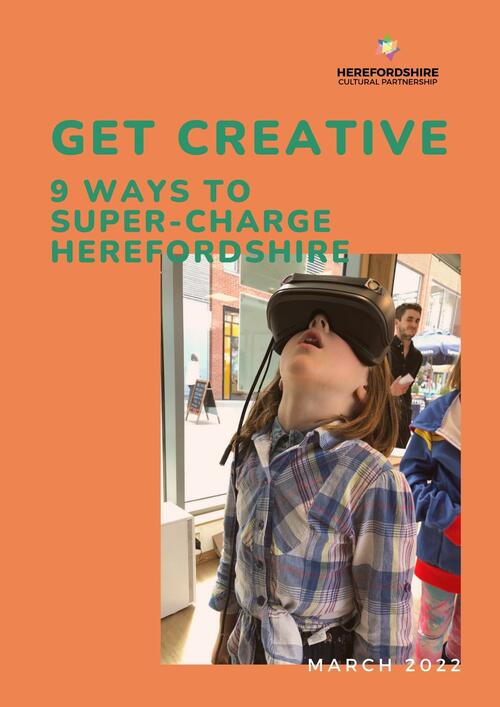 Nic Millington, Acting Chair of HCP, said the findings and recommendations should boost local confidence that Herefordshire's creative and cultural sector is set to play a critical role in the county's economic growth, health, and wellbeing.
He said: "Over the last three years, Arts Council England has invested £9 million into the County's cultural sector and Herefordshire Council has endorsed the Herefordshire Cultural Strategy 2019-29. New cross-sector partnerships and investment will be key to retaining and attracting talent and creative businesses to the county, accelerating social mobility through digital and creative industry training, and putting Herefordshire on the national and global map."
Welcoming the report, Professor Elena Rodriguez-Falcon, President, and CEO of NMITE, said: "Developing creativity, imagination and curiosity in the engineers of the future is at the core of NMITE's mission. This report is a compelling manifesto for revitalising our county's creative economy and should be supported by everyone with a stake in the future of Herefordshire."
If you would like a copy of the report in any other format, please email laurenr@ruralmedia.co.uk.