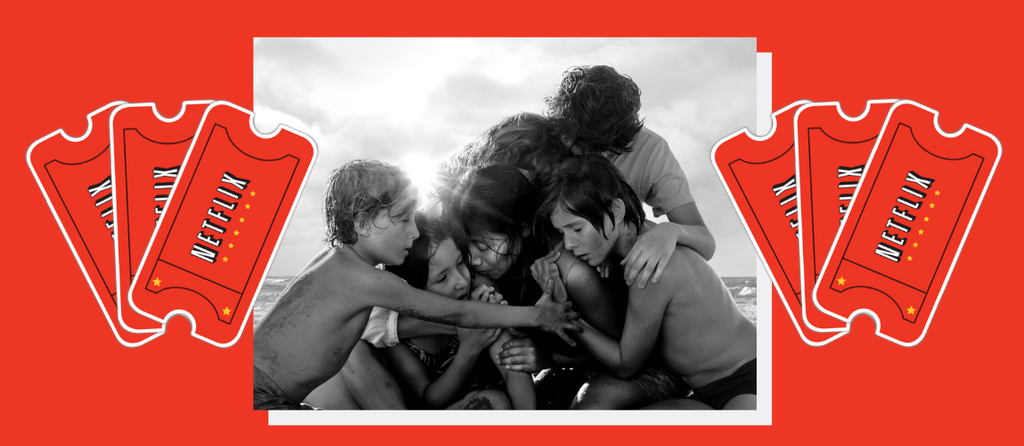 Last week Roma picked up three Oscars; Best Director, Best Foreign Language Film and Best Cinematography.
And yet you won't be able to see it at any cinemas.
The Courtyard - and Borderlines Film Festival, which shows dozens of films at the theatre every March - will be screening Green Book, Free Solo and most of the other films currently enjoying a bump in popularity from their Oscars success. But not Roma.
This is because Alfonso Cuarón's beautiful, black-and-white loveletter to the woman who raised him was funded by and made for the streaming platform Netflix, and released to only a handful of Curzon cinemas in the UK.
That limited release has raised a some big questions about the movie business, where it's headed and what that means for The Big Screen - especially in independent cinemas like the Courtyard.
Simon Nicholls, who heads film there, said: "We're all in this together. We're all looking for moving images to stimulate. And if you're, as a streaming service, being more risk-taking and putting money in, that's fine. But what these guys [Spielberg etc] are saying is true as well.
"Cinemas took a risk on showing Cuarón's first film – I showed Y Tu Mama También here, and people liked it, but it was a bit a different from what audiences are used to – and those risks are a part of what got him to where he is.
"The thing that I think has pissed everybody off is that if I want to offer the opportunity to our customers to see Roma in the cinema – which is quite an intense drama that I'm told can be difficult to get in to on a small screen – I can't do it."
Prior to Roma's release in November, an open letter from 15 of the top independent cinemas in the country called on Netflix to work with a wider pool of cinemas to screen its titles. It's a sentiment shared by Nicholls. The Oscar last month just added a pinch of salt.
We love cinema. Here are some things we also love:

-Access for people who can't always afford, or live in towns without, theaters
-Letting everyone, everywhere enjoy releases at the same time
-Giving filmmakers more ways to share art

These things are not mutually exclusive.

— Netflix Film (@NetflixFilm) March 4, 2019
"If you're using the cinema industry to promote, then at least give me an opportunity to show it.
"Netflix's answer was about [their platform] 'being inclusive' and yet they're not, because they're denying people who want the big screen experience to see it on the big screen.
"And yet they're using the cinema for marketing purposes – to garner the acclaim from getting an Oscar which raises the profile even more. Let them put it in for an Emmy or a TV movie and raise the standard of TV awards to the level of Oscars - but don't let them put it in for a film Oscar unless people can see it on the big screen."
If Roma – and Netflix's – award season success took some by surprise, it shouldn't have.
Last year, as well as Cuaron, Netflix also backed fellow Oscar winners the Coen Brother's latest project. Nicholls said Tarantino is rumoured to be next, with the auteur (and famed cinephile) excited by the prospect of putting out his work, how he wants, regardless of a marathon runtime.

Netflix is in love with cinema, as their statement said on Monday. It's unclear how much they love cinemas.
And with the recent Disney-Fox merger expected to produce another streaming platform - one with the rights to Big Screen films like Star Wars and the Marvel Universe – the rise of streaming, and the relationships cinemas like the Courtyard have with the big money companies behind these new platforms, will go a long way to deciding where the next generation of Best Picture winners are being watched.
Nicholls said: "Who knows going forward how it's going to pan out. Borderlines Festival were very keen to play [Roma] – and in the cold light of day it would probably have been a key film for the festival.
"But it's not just Netflix, and it's not just Roma. This is the way it's moving."
Head to the Courtyard's website here, and Borderlines website here, to check out the dozens of other excellent and interesting films showing right now - also, Captain Marvel premiered at the Odeon in Hereford at midnight last night and will be screening all weekend.