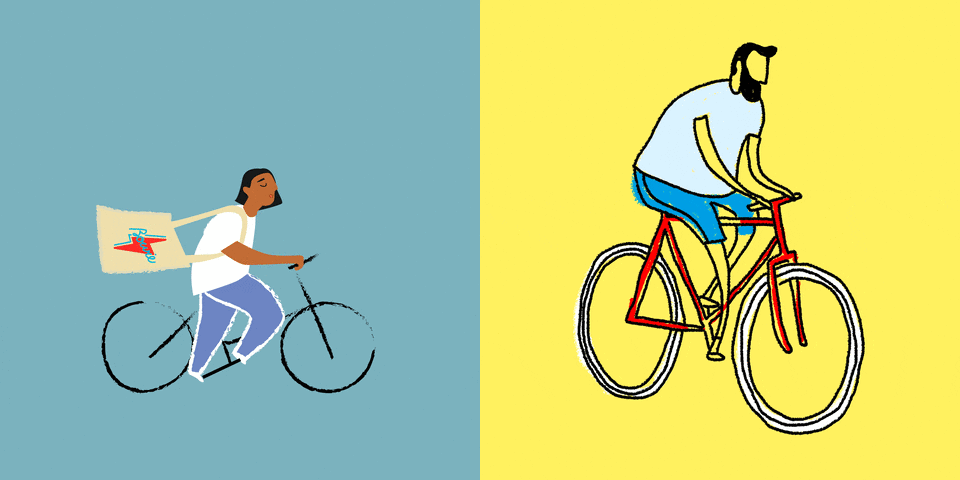 Like a two-wheeled extra-terrestrial invasion, Hereford just woke up to find bright mint green bikes parked up across the city.
The much-hyped Beryl Bikes rideshare scheme has launched and you can, right now, grab hold of the handebars and pedal.
With 150 bikes spread across town, the Pay-As-You-Go scheme lets you cycle anywhere in the city for 5p a minute, as long as drop the bike back at one the 30-something designated Beryl bays.
Rideshare schemes have been shown to kickstart bike use in cities around the world; leading to better health, less traffic and increased city centre footfall. They're also great for tourists.
With Beryl Bikes now live in Hereford, we wanted to know whether you could use the cycle scheme to discover local arts, heritage and sitting-on-a-hill-watching-a-sunset hotspots. The answer? Of course you can. Here's The Shire's saddle guide to Hereford's Cultural Hotspots.
Churchill Gardens at Sundown (Aylestone Hill)
Grab a bike and brave the ride up Aylestone Hill until the cyclepath cuts left and you enter Churchill Gardens. When you get to the top, grab a seat and take in one of the best vistas with hills on the horizon. Even better if you time it as the sun begins to drop in to the distance.
The nearest bike bays are outside Hereford Sixth Form College on Folly Lane and at Hereford Train Station. 
Hereford City Walls
Hereford has seen some action down the years and has, back in the day, braced itself to deal with attacking forces be it Danes or our friends in Wales. Dating back to the reign of Henry III, the city's ancient stone walls are a great example of well-preserved city defences.
What's left of these walls are now a designated ancient monument and, to let you in on a little secret, we've heard there are projects bubbling away that want to make the most of them. Until then, the best way to see them is to jump on your bike and use this Historic England map - a basic guide to where to find the city's original walls.
Jim Reid's Cider Apple Alley
You might have heard of Hereford's Cider Museum and you might have seen Walenty Pytel's incredible duo of iron sculptures which tower over pedestrians passing by. If not, you need to check them out and, while you're in the neighbourhood, DO NOT miss a visit to Jim Reid's Cider Apple Alley installation.
In 2018 Jim, easily one of the county's most interesting and creative contemporary artists, was commissioned to produce the huge prints that now liven up the otherwise anonymous alley running alongside the Cider Museum.
They look great, and you can see them and Pytel's woodpecker and kingfisher statues without getting out of your bike saddle. All these sights are a 5 minute cycle ride from Hereford city centre.
The closest Beryl bays are further up Plough Lane, not too far to park up if you have the time to pop into the Cider Museum.
A Tale of Two (or Three) Bridges
Start in town, grabbing a bike from High Town or De Koffie Pot on Bridge Street, and roll over Hereford's picturesque 12th-century bridge for views up and down the river. Pull your bike into the little cutouts on the ramparts so you don't block the pavement. 
From here, hang a left and follow the tree-lined riverside path through Castle Green until you get to the Victoria Bridge, the iron lacework suspension footbrdige that locals like to call Viccy bridge. Not every nickname has to be clever, alright. Viccy Bridge was built in 1898 and took the place of a ferry crossing.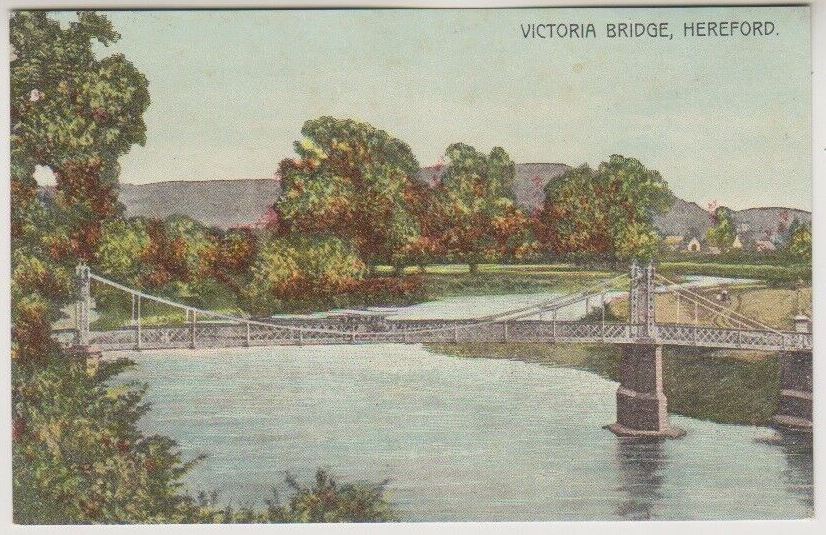 You can loop back to town from here – but if you've got time, try and cycle through St James and cross back over the river on the stunning, modern suspension bridge built for bikes a few years' back. The views are great and the cycle path on the other side takes you on a lovely little route through wild meadow land and contemporary metal sculptures of Violet Szabo, Josie Pearson and Edward Elgar.
There are Beryl bays at Rotherwas, or you can easily loop back to Castle Green by following mostly-segregated cycle routes.
HARC
Talking of Rotherwas, the UK-leading Hereford Archive & Records Centre (HARC, to its friends) is basically at the end of that cycle path. The Passivhaus building is incredible, there are regular exhibitions, and you can have a snoop through a wealth of old records and archives inside.
There's a bay right outside, so you can park your bike while you go in. The pavement is mixed-use and just across the road you can see the large-scale photos from Bruce Williams' Rotherwas Women collection, which feature the faces of people who worked at Rotherwas munitions site during the Second World War.
DIY Public Art Tour
Let's keep the Public Art-theme going. Williams's towering installations feature on the interesting and always-evolving Public Art wiki page for Herefordshire. If you've got your phone in your hand, this page is a pretty good starting point if you want to do a DIY tour of the city's statues and public art.
It's free and easily accessible. Just plug the co-ordinates in to your Google Map and pedal away.
See the Wye from the Water
Old bridges are great. But if you want to make the most of Hereford's river, we recommend that you get up close and personal.
Park your bike at St Peter's Square, walk 5 minutes towards Castle Green and
rent a kayak from the Canoe Club
. If you're feeling more adventerous, you can go stand-up paddleboarding with 
Wye SUP
, who'll launch you at the Rowing Club.
How to get a Beryl bike
The bikeshare scheme is super easy to use. You'll need a smartphone and a bank card to register. Here's how.
Download the Beryl app (look for the turquoise logo).
Register your bank card if it's your first time (you'll get charged 5p a minute when you start your ride).

Use the map

the locate the nearest bay – the number at each station tells you how many bikes are available there, and if you tap it Google will tell you how long it takes to walk.

When you get to your bike unlock it by using waving your phone over the contactless sensor while the app is open, or just enter the six digit code you see on the bike's sensor.

Adjust the seat to a comfortable height (ideally you should be up towards your tip toes when you put your foot down).

Pick a gear (1-3) and go for a pedal (anywhere within the red borderline on the app).
When you're done, use the map on the app to find your closest

 

bay – if you don't return it to one of the spray painted areas, you'll be charged an extra £2.
Find the lock on the rear wheel, and move the slider across to end your ride.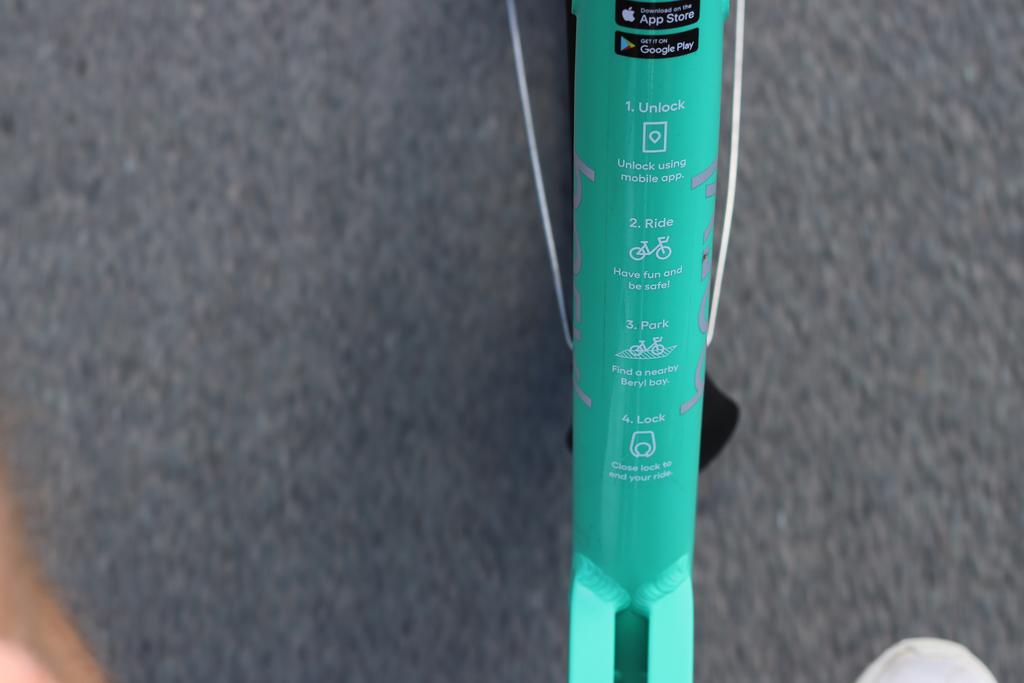 Buttermarket/High Town food markets
Here's a challenge. Grab a Beryl bike and roll in to town on market day. See how much food stuff you can fix to the bungee court basket on the front of your bike.
The Buttermarket, which dates back to 1860, has a buzzing food court area in the back, plus some unbelievable falafel on the way in. Head here for the changing and varied offer of food and drink, as well as space to sit down.
If the weather's good, park up at one of the bays in High Town and have a wander – grab some fruit and veg for later, check out The Bull and the Black and White House, then get lunch from the souvlaki guy if you're feeling hungry.
The Wye Valley brewery triple-header
While the Beryl bike zone doesn't reach out as far as the Stoke Lacy brewery, Wye Valley is a local institution and they run three of the best pubs in town.
Not that we'd advocate drinking eight pints and getting on a bike. Seriously. If real ale is your thing, pay a visit to The Barrels, The Vega and The Brit via Beryl bike and maybe have a taster in each.
There are bike parking bays within 5 minute walks.
Searching for Elgar
Hereford's second-most famous musician – after Ellie Goulding, obvs – features pretty heavily in our heritage, and we reckon this is a nice Elgar-inspired route for you and your Beryl.
First you've got the two statues; near Hereford Cathedral you'll find Eddie leaning against his bike, and on the Rotherwas cycle path you'll find a contemporary cut-out of the Man and His Moustache. 
If you head out of the city centre on Hampton Park Road you'll come to a blue plaque outside Plas Gwyn - a beautiful, grand house that was the composer's home for eight years.
If you want a deep dive, continue along Hampton Park Road for half-mile further and on your right, a few houses past The Park you'll see a grand old tree – Elgar's Oak – under which the musician was known to recline until inspiration hit.
Art Galleries
Hereford has a handful of exhibition spaces that are Beryl-bay adjacent.
The Courtyard, off Edgar Street, has a rolling array of local art on show in its first floor gallery. The Craft Gallery on Church Street is two minutes' walk from the High Town drop offs, while Hereford Museum and Art Gallery is just around the corner on Broad Street. The Apple Store Gallery, in amongst several art studios and workspaces on the Rockfield Road estate, is a couple of minutes' walk from the drop-off point outside Hereford Train Station.
---