A report looking into the development of cultural places and spaces in Hereford city has been published by Herefordshire Cultural Partnership.
Developing Cultural Spaces and Places in Hereford City offers insight into the city's current cultural ecology, makes recommendations, and prompts discussion about the role of arts, heritage and creative industries in a rural city's recovery from Covid 19.
The research, commissioned as part of the Herefordshire's A Great Place project in partnership with Herefordshire Council, was authored by BOP Consulting over a number of months in 2019 and 2020.
Aligning with the ten-year Herefordshire Cultural Strategy, the report seeks to address the Strategy's priority of building a resilient cultural infrastructure that makes Herefordshire a great place to live, work, and to visit.
Developing Cultural Spaces and Places in Hereford City (full report)
Along with its executive summary and recommendations, the Developing Cultural Spaces and Places report includes a mapping Hereford's cultural infrastructure, creative economy, and Cultural and Creative Industry assets by comparison. It highlights opportunities through a review of the city's current offer through a strengths, weaknesses, opportunities and threats analysis, and provides case studies from elsewhere in the UK.
To request a large print, Braille or translation of this report, please email laurenr@ruralmedia.co.uk.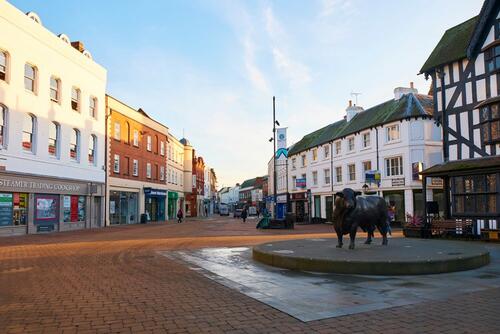 Report extract: conclusions and opportunities
'Cultural spaces' of many kinds represent the underpinnings of the local cultural infrastructure. Whilst Hereford has a significant number of regional and national assets, it also has weaknesses relating to those assets' size, visibility, and, in some cases, physical condition, which require more or less significant improvement and investment. 
The insights and analyses of the previous chapters offer up some conclusions and scenarios that Hereford could take up or investigate further, in its aim to, "have a connected and sustainable cultural infrastructure underpinned by a creative workforce offering high quality arts and heritage activity and experiences available to all residents and visitors."  Any effective and viable future development of the local cultural infrastructure should rest on three principles: 
The most fundamental of these is to identify strengths before trying to address weaknesses. Build on Hereford's distinctive collection of cultural and heritage assets, rather than trying to create an entirely new image. Invest in growth and use the proceeds of growth to address problems.
This requires: Better evidence, and sharing of evidence, about creative businesses, employment, students and workspace, retail, and visitor economy  Identifying a 'niche' (e.g. heritage, visual art, the town as a basis to explore the country) and using this as the main guiding principle. 
The impact of combining cultural and creative assets can - through its increased offer, visibility, and reach and efficiency of shared marketing - be larger than the sum of its parts.  
Developing interlinking elements across sectors - cultural assets, retail and visitor economy, infrastructure. - together, through communication and collaboration will have a multiplier effect on the impact of each on the other and on the identified specialism. 
The role of culture in post Covid-19 recovery
The research phase of this study took place before the emergency response which led to the closure of all cultural venues and cancellation of festivals and public events. The full impact of the virus on Hereford's cultural sector cannot yet be measured. However, it is likely to be profound – accentuated by structural factors, including an over-reliance on activities that rely on generating footfall as opposed to those which generate IP that can be exploited through broadcast or online, the absence of large-scale creative employers and the lack of creative workspaces to provide a focus for relief. 
The response will need to draw upon the core values expressed in Herefordshire's Cultural Strategy, notably on the resourcefulness of its cultural organisations, creative individuals and communities.
One benefit of the emergency response is that the Great Place project, including its evaluation of the role of Herefordshire Cultural Partnership,  has been extended to March 2021. The research points to the importance of a central coordinating function in drawing together and projecting Hereford's heritage and cultural assets, and in collating evidence and commissioning the new research needed to provide a baseline to inform renewal and growth plans, and bids for strategic funding, such as Towns Fund and the proposed Destination Business Improvement District. 
Any attempt to simply 'wind back the clock' to the pre-COVID state of the cultural sector, and the places and spaces which are themselves an integral part of Hereford's offer, will fall short of what is needed to protect employment and rebuild the city and county economy. Recognition of this needs to reflect the importance of doing bold things now: pressing for investment and joint action which may have seemed unrealistic prior to the emergency, such as in creation of a major new museum venue, but now presents itself as essential to restoring the economic and social health and wellbeing of Hereford.