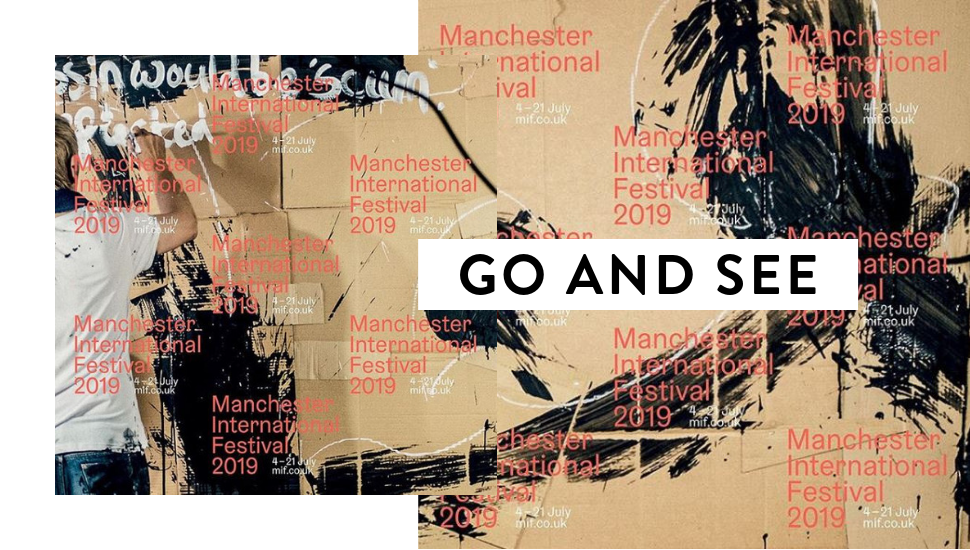 Michael Connolly spent several days learning first-hand how Manchester International Festival uses low-level positions to recruit the kind of diverse talent who go on drive its creative teams and ensure this huge, northern powerhouse of an arts and culture platform is a point of pride for the whole of the community - not just the few.  
Michael applied for a Go & See bursary from Herefordshire's a Great Place to research arts, culture and engagement, and how all those things intertwine at MIF - in his own words, here's what he learned....
In the year of the Brexit vote 2016 - that seismic shift that continues to fracture - research and campaigning were underway to highlight and understand inequalities within the Creative Industries.
'The Panic Report' was eventually published in early 2018 and in hindsight can be seen as a reflection within the Arts Industry of the divide that occurred across the country 18 months earlier, confirmatory rather than revelatory in its findings that:
'cultural consumption is closely related to particular forms of inequality, such as education, social status and social class' and that the parts of the community 'who make and consume culture are related by [those] shared social inequalities'.
These events were a catalyst for me, to look to re-connect with the Arts Industry and work to promote what I know it can offer – how an experience of an artistic work (whether a song, a painting, a picture, a movie, dance or drama) throws up opportunities to view life from alternative perspectives; at its best, allowing you to see a reflection of life from a different viewpoint, a chance to further understand a specific issue, an opportunity to see and hear about cultures other than your own.
Chipping away, but still very much in search of stimulus, Herefordshire's A Great Place 'Go & See Bursary' offers up quite a rare opportunity, for an individual (rather than already formed and organised groups) to apply for funding to support their endeavours. As a Lancastrian in Border Country I looked to the cultural experiences that have influenced me and turned to the North, specifically the Manchester International Festival.
The Manchester International Festival Team are increasing, evolving and changing the gatekeepers of Greater Manchester's arts and cultural experiences.
My successful application was for a two-day Knowledge Sharing trip, shadowing the MIF creative engagement team and to help establish a Herefordshire connection with an event and a city that has a history of tapping into arts and culture to generate engagement with local residents, national audiences and international artists.
I wanted to gain an insight into the organisation's practices, in particular how the MIF engage arts and culture opportunities with all strands of the local community (both in terms of audience attendance and participation) whilst generating tourism for the city.
What I discovered in April on my trip North, is that The Manchester International Festival Team are increasing, evolving and changing the gatekeepers of Greater Manchester's arts and cultural experiences. In order to continually engage with the ever-diversifying wider community they are reminding, retelling and re-introducing the power of the arts to celebrate life, highlight inequalities and instigate & deliver change.
MIF are opening up opportunities, not only to experience the arts as an audience member, but by seeking out and encouraging people to actively engage.
From opportunities to take a part in the preparation for the Festival (see their Tile Workshop Events), actually taking part in Festival productions (like Yoko Ono's Bells For Peace event which is opening the Festival this year) to opening up opportunities to begin a career in the Arts Sector - there are low level roles with a clear line of progression which are being opened up to people who might not necessarily have found the Education System all that useful. And this approach reflects in the backgrounds of the Team delivering the festival to the community.
What I found was a group of people from a richly diverse set of backgrounds reaching out to a richly diverse set of communities. Slowly but surely, they are 'Changing the Gatekeepers' in Greater Manchester.
If we want a more open society with a greater level of understanding of the things we have in common (which are far greater than the differences we tend to focus on), then we need the cultural offerings of the county to reflect all (and therefore cater to all) of the glorious cultural communities that make up the county.
The Great Place project is a wonderful opportunity to open up access to Arts & Culture for the swathes of the community who do not currently feel the benefit, but it needs to supply a legacy.
It is not just the responsibility of the small team at Rural Media, who provide the platform, it is the responsibility of each and every one of us who are already involved in generating the arts and culture offering in the county, to look to encourage and engage people outside of our friendship groups / trust groups to get involved (outside of our comfort zones if you will).
It is the responsibility of everyone who can understand and appreciate the benefits of the arts, to help provide it to/for everyone else in our communities; the knowledge that it develops understanding and provides a platform for perspective to be gained – that these things are vital in supporting the sustainability of our communities and the health and wellbeing of our neighbours.
There are just over twelve months left of the Great Place funding – if you are reading The Shire website – there is a very good chance that you already have a pretty strong interest in arts and culture in the county – so the legacy is down to you as well.
Take responsibility, make a difference, get involved.