Everyone has days when they don't want to hit the books/MacBook/finish that brew up and get back in the studio. But one thing that ran through all three keynote talks at this year's Create/Fuel was that you need to, even if it's not this right minute, and tough as it may be.
All three headliners are living, breathing testaments to the power of lacing them up and getting out there, time and again, if you want to work in the creative industries.
Their talks – filmed by Rural Media at the first dedicated creative careers event in Hereford last week – let you in on their story and pass on more than a few pearls of wisdom.
You can watch all three, for free, below. Click for some serious #inspo .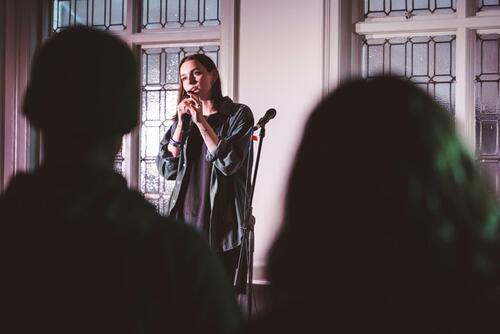 Create/Fuel was supported by Arts Council England, National Lottery Heritage Fund, Historic England and The Elmley Foundation. It was the second 'Pride of Place' event organised by Herefordshire's a Great Place. Image above by David Grange.
Cecilia Knapp
Cecilia Knapp is a writer, performer, theatre maker and poet.
She's headlined poetry nights and performed at Bestival, Secret Garden Party and Wilderness. She's taken work to the Edinburgh Fringe and the Cheltenham Literature Festival. She was an artist in residence at the Roundhouse and spent a year on their board as a young trustee representing young artists.
Anthony Murphy
Murf's creative career has so far included performing with his band The Anomalies, theatre, music production, mentoring and founding an award-winning restaurant with his mates. He also (SPOILER ALERT) landed a role starring in a certain Marvel film.
Max Low
Children's book writer and illustrator, Hereford College of Arts alumnus Max now lives in Abergavenny, Wales. His first books about a Welsh cat and dog duo called Ceri & Deri were released by Graffeg. He's designed cards for Moonpig and earlier this year he spoke at Welsh Books Council's schools event to celebrate World Book Day.